The Explore Scientific PMC-Eight System Software V1.2 has been released by the Explore Scientific team. This latest version of the ASCOM Driver for all PMC-Eight mounts offers a number of new updates, features and functions.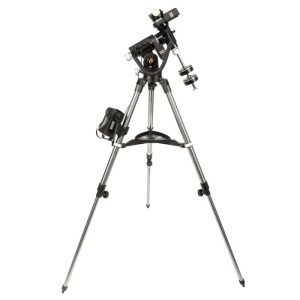 The PMC-Eight mount control system offers a unique level of GoTo technology by utilizing a smart electronic design philosophy offering eight CPUs that operate independently of one another to focus on defined functions. This delegation of tasks among the multiple processors results in a system that offers superior responsiveness, high efficiency and excellent reliability.
An easy way to access the PMC-Eight features is through the ExploreStars app which was created specifically for the PMC-Eight. The app streamlines the observing experience and serves as an ideal introduction to the many benefits of the Explore Scientific OpenGOTO system. ExploreStars offers an intuitive nature that makes it simple and quick to align a telescope, navigate the stars and learn specifics about tens of thousands of celestial objects. This dynamic app is fueled by a database that can be routinely updated to ensure you have the latest discoveries waiting for you to explore.
And with the Explore Scientific PMC-Eight System Software V1.2 release, the PMC-Eight is even easier to use with the industry standard ASCOM Standard interface. The specific PMC-Eight ASCOM 32-bit legacy, or 32-bit/64-bit Any CPU driver allows the use of any ASCOM-powered planetarium or observatory control software to run a PMC-Eight mount either wirelessly or through a wired connection. Through ASCOM, you can access a number of outstanding star map software/telescope control programs.
As the Explore Scientific team notes, "The night sky is full of possibilities, and so is the PMC-Eight. By offering the coding that powers our precision motion control system open source, we are putting the building blocks into the hands of programmers, which we believe we will unlock the full potential of the PMC-Eight OpenGOTO and discover unexplored uses. We don't want to set limits and force users to conform to our vision. Instead, we want to give you the access you need to make this system your own."
With the release of Explore Scientific PMC-Eight System Software V1.2 ASCOM Driver for ALL PMC-Eight Systems, users will access a number of new features and functions
This version makes many improvements in the overall operation of the mount, especially regarding accuracy.  Multiple internal changes were made to reduce the size of the code build to facilitate future capabilities and improve supportability. Various changes were made to improve the user experience when employing ExploreStars and/or ASCOM.
Associated with this firmware release are changes to the Universal Firmware Configuration Tool and the PMC-Eight ASCOM driver. The UFCT now will warn the user if the WiFi channel is set to 0. This channel is appropriate for the RN131 ONLY and is not appropriate unless the user has manually programmed the RN131 to connect to their home network.
The Driver has improvements that will make GoTo accuracy better than ever. Explore Scientific's  experience is that pointing (in a mathematically perfect coordinate system, absent the various mount setup and mechanical errors that are common and difficult to get to zero) is typically <15 arc-seconds for large slews and considerably less for short slews. These changes will make those plate solve slews to target typically to a few arc-seconds after one solve. Discrepancies reported for guiding performance that were driver related have also been corrected.
The firmware, Driver, and UFCT also now support the Titan mount. Titan owners should update their firmware, Driver, and UFCT to this release version. These also support a special mount which users will note is called Scotty. This is a special configuration and is not for general use.  Users are encouraged to install this updated version, however, as always if their current system software meets their needs, they may choose to continue using their existing versions.
The new UFCT and new Driver are compatible with the previous firmware release V1.1 but the stop button fix will not work. The previous version of the driver is completely compatible with the new firmware version V1.2.  It is recommended that the new firmware be installed coincident with the new driver.
You can learn more about the Explore Scientific PMC-Eight System Software V1.2 release here.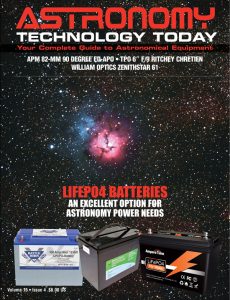 And to make it easier for you to get the most extensive news, articles and reviews that are only available in the magazine pages of Astronomy Technology Today, we are offering a 1 year magazine subscription for only $6! Or, for an even better deal, we are offering 2 years for only $9. Click here to get these deals which only will be available for a very limited time. You can also check out a free sample issue here.