With the included Wi-Fi adapter and the SynScan Pro app (available for free through the Apple and Google Play stores) even an inexperienced astronomer can master the new Sky-Watcher EQ6-Ri Pro WiFi Computerized Equatorial Mount through its variety of features in a few observing sessions.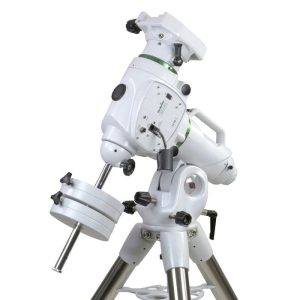 With a weight capacity of 44 pounds, the EQ6-Ri Sky-Watcher EQ6-Ri Pro WiFi Computerized Equatorial Mount is just the thing for amateur astronomers and astrophotographers who use all but the largest of telescope optical tube assemblies.
The Sky-Watcher EQ6-Ri Pro WiFi Computerized Equatorial Mount offers a plethora of features for the astroimager. The built-in ST-4 autoguider port turns this mount into an astrophotography powerhouse, allowing you to use most of today's best autoguiders. Using the supplied USB-B cable, you can control the telescope from your computer and take advantage of today's most advanced astronomy software. With a weight capacity of 44 pounds, the EQ6-Ri can handily support an optical tube, imaging accessories, and camera.
The mount has a belt drive system and stepper motors for accurate, quiet, and reliable tracking of celestial objects. The EQ6-Ri Pro uses stepper motors with a 1.8° step angle and 64 micro steps driven. Stepper motors are quieter than servo motors, providing accuracy up to 1 arc minute without waking your neighbors to the tune of buzzing motors
The included WiFi dongle allows the user to control the mount wirelessly via the SynScan Pro app on your phone or tablet. A SynScan hand controller can also be purchased separately. The EQ6-Ri Pro mount also has an ST4 auto guider port.
Sky-Watcher includes an illuminated polar scope to aid the polar alignment process. The polar scope features a circular grid reticle for the Northern Hemisphere, consistent with today's popular polar alignment apps. For astronomers in the Southern Hemisphere, the constellation Octans is built into the reticle as well. Even without a clear view of Polaris, the EQ6-Ri Pro can be polar aligned using our free SynScan Pro app. Simply choose one of the visible stars listed and use the latitude adjustment screws to center it in the eyepiece.
The EQ6-R Pro dual saddle plate will accept either Vixen- or Losmandy-style dovetails. A built-in carry handle near the polar scope will make transporting and setting up the EQ6Ri Pro Wi-Fi mount much easier, as will the retractable counterweight shaft. The built-in illuminated polar scope for easy polar alignment.
The Sky-Watcher EQ6-Ri Pro mount sits on a very sturdy tripod, with 2" diameter stainless steel legs, a tripod spreader plate with cut-outs for eyepiece storage, and tripod feet that provide a stable foundation for the mount. The EQ6-Ri Pro also comes with a counterweight shaft that retracts into the body of the mount for easier portability, two 11 lb counterweights to balance the mount against the payload and a thread-on power cable.
The included Wi-Fi adapter allows for wireless operation via the SynScan Pro app, compatible with both Android and iOS devices (sold separately). This app includes access to a database of over 42,900 objects, including the complete Messier, NGC, and IC catalogs. The integrated USB port also allows for wired, direct control from a PC.
The stepper motors and belt drives provide accurate, reliable, and quiet finding and tracking, with slewing speeds up to 3.4-degrees/second. Onboard ports allow for expanded functionality and include Autoguider and Hand Controller/Wifi ports, a USB port for direct PC connection, and a SNAP port for programmable DSLR exposures.
Highlights of the Sky-Watcher EQ6-Ri Pro WiFi Computerized Equatorial Mount include:
– 44-pound payload capacity supports OTA, guiders, cameras, filters, and more
– Complete control with the SynScan Pro app (requires smartphone or tablet, not included)
– Belt drives for accurate, quiet operation
– Stepper motors with 1.8° step angle and 64 micro steps driven for reduced backlash
– Slewing speed up to 3.4°/sec (800X)
– Heavy-duty latitude adjustments and sturdy carry handle
– Snap port for programmable DSLR exposures
– Autoguider port for astrophotography
– Guiding speed selectable from 0.25x, 0.50x, 0.75x or 1x
– Minimal vibration for steady long-exposure photography
– Periodic Error Correction (PEC)
– Retractable counterweight bar for easy stowage
– Built-in illuminated polar scope
– PC compatibility
– D/V-style saddle for extra dovetail compatibility
– Steel tripod for solid performance
– Object database containing complete Messier, NGC and IC catalogs
– Includes two 11-pound counterweights, Wi-Fi adapter, and DC power chord
– Optional hand controller available as a mount accessory
The Sky-Watcher EQ6-Ri Pro WiFi Computerized Equatorial Mount specifications include:
– Mount Type: EQ
– GoTo: Yes
– Payload Capacity (lbs) : 44
– Mount Head Weight (lbs) : 38
– Tripod Weight (lbs): 16.5
– Fully Assembled Weight (w/ weights) : 76.5
– Tripod Leg Diameter: 2″
– Mounting Saddle Type: Dual – Vixen or Losmandy
– Power Type: 12V (4 amp minimum)
– Clutch: Locking Lever
– Polar Scope: Built In
– Object Database: 42900+
– Controller: Optional (SynScan hand controller)
– WiFi: Included
– Polar: Align Assist: Yes
– PC Direct Connect Port: Yes
– Auto Guide: Yes
– Permanent Periodic Correction: Yes
– DSLR Interface: Yes
– Included Weights: 11lbs (two)
– Motor Type: Stepper
– Drive System: Belt
You can learn more about the Sky-Watcher EQ6-Ri Pro WiFi Computerized Equatorial Mount here.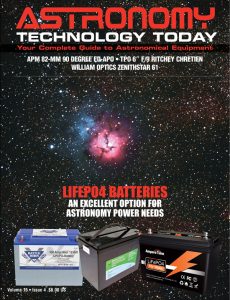 And to make it easier for you to get the most extensive news, articles and reviews that are only available in the magazine pages of Astronomy Technology Today, we are offering a 1 year magazine subscription for only $6! Or, for an even better deal, we are offering 2 years for only $9. Click here to get these deals which only will be available for a very limited time. You can also check out a free sample issue here.