The ZWO ASI432MM camera is a mono camera that uses a Sony-IMX432 global shutter CMOS sensor. Its frame size is 1.1″, with large 9.0µm pixels, 1.77 million pixels (1608×1104). In ADC 12-bit mode, it can output 120 frames per second at full resolution and has a read out noise level as low as 2.9e.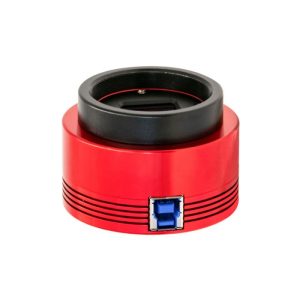 The ZWO ASI432MM camera has a large sensor format of 1.1inch and hence a large field of view. The area is almost twice that of ZWO ASI174MM, making it a better choice for solar imaging and lunar imaging than ASI174MM which is an already recognized solar imaging camera.
The 9um pixel size is almost 1.5 times larger than the ASI174MM pixel size. With its high sensitivity, images with finer colors and subtler details are now possible. You can have full trust in its solar imaging performance regarding to both full disk and local details.
Being a global shutter camera, ASI432MM also features a very high fps rate. Thus, it's not only good for solar and lunar imaging, it is also suitable to photograph the ISS and other fast-moving objects.
The ZWO ASI432MM camera has a full well depth of 97ke, which is 3 times larger than that of ASI174MM. The larger full well depth provides the camera with stronger sensitivity. When imaging the Sun's surface and prominences at the same time, a very good quality image can be obtained.
The camera adopts the latest SONY IMX432 sensor with advanced STARVIS technology. This camera features a larger format, larger pixel size and the full well of the ZWO ASI432MM is three times as much as that of ASI174MM. The dark current is several times lower as well.
Compared to traditional CCD cameras, the readout noise of the ZWO ASI432 camera is extremely low. The built-in HCG mode can effectively reduce readout noise at high gain and allows the camera to maintain the same high dynamic range as it does at low gain. When the gain is 140, the HCG mode is automatically turned on and the dynamic range rises back to 12bit. When the gain is 400, the readout noise is 2.4e.
The anti-amp glow function which was independently developed by ZWO for the ASI cameras effectively limits the amp glow on sensors and maximizes the cameras' photographic performance. Since it is implemented directly at the hardware level, it does not require software control.
ZWO ASI432MM camera specifications include:
– Format: 1.1″
– Resolution: 1608×1104
– Pixel Size: 9µm
– Readout Noise: 2.4-20.8e (4.3e @ 14db gain)
– QE Peak: 79%
– Full Well: 97ke
– ADC: 12bit
– Back Focus: 6.5mm/17.5mm
– MAX FPS: 120fps (12bit ADC)
– Sensor Size: 14.5×9.9mm
– Weight: 126g
You can learn more about the ZWO ASI432MM Camera here.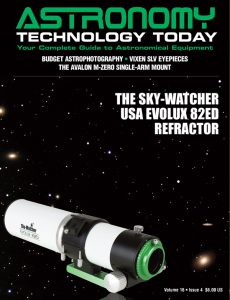 And to make it easier for you to get the most extensive news, articles and reviews that are only available in the magazine pages of Astronomy Technology Today, we are offering a 1 year magazine subscription for only $6! Or, for an even better deal, we are offering 2 years for only $9. Click here to get these deals which only will be available for a very limited time. You can also check out a free sample issue here.