The HEM27 and the HEM27EC are iOptron's new hybrid harmonic drive mounts. These light weight, high payload mounts weigh in at 8.15lbs with a payload capability of 29.74lbs, without a counter weight or shaft.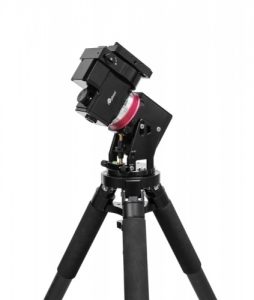 As the iOptron team notes, "We are pleased to introduce a revolutionary new mount family of equatorial mounts, the HEM27 and HEM27EC hybrid harmonic drive mounts. HEM27s do not need a heavy counterweight nor cumbersome shaft, ushering in a new era of portability. The mounts weight of just over 8lbs is all one needs to support a payload of nearly 30lbs (plus a tripod of course, we offer the new carbon fiber 8061 to fill this role). The initial response from dealers has been tremendous, we anticipate the same from the amateur astronomy community."
They continued, "The HEM27EC features a high resolution RA axis encoder that delivers incredible tracking accuracy, enough that many will choose to image "sans" guiding."
Utilizing state of the art harmonic drive technology for the RA movement in tandem with a backlash free DEC worm/belt drive design, the HEM27s deliver a desirable weight to payload efficiency. Its black anodized all metal CNC machined offers a rugged platform that will perform at the highest level for many.
Unique features such as an electronic friction break and power down memory allow the mount to safely stop and resume a GoTo slew or continue tracking even after an abrupt power loss (No need to realign and start from the beginning).
Highlights of the iOptron HEM27 and HEM27EC Mounts include:
– Advanced harmonic drive technology
– Payload capacity of 13.5 kg (29.7 lbs.) with the mount weight of 3.7 kg (8.15 lbs.)
– CNC machined and cast metal body
– Unique friction brake to safely stop movement during a planned or unplanned power interruption
– 360 second gear period
– Permanent periodic error correction (PPEC)
– Go2Nova® hand controller with ~212,000 object database
– iPolar electronic polar scope for easy and accurate polar alignment
– Cable management system, no hanging exterior cables to moving parts
– Dual saddle (Vixen and Losmandy-D styles)
– Built in zero position search and locator
– Power down position and location memory
– Integrated ST-4 autoguiding port
– Built-in Wi-Fi (via hand controller)
– USB port for firmware upgrade and computer control
– Soft carrying case
– Two year warranty
Specifications of the iOptron HEM27 and HEM27EC Mounts include:
– Mount: Hybrid Equatorial Mount
– RA Gear system: StrainWave 17 (RA)/worm gear (DEC)
– DEC Gear system: Backlash-free worm/belt system
– RA reduction ratio: 120
– Payload w/o CW : 29.14 lbs. (13.5kg)
– Mount weight: 7.49lbs (3.4kg) w/o dovetail saddle, 8.15 ls (3.7kg) with dovetail saddle
– Payload/Mount weight: 3.65
– Period: 360 second
– Drive motor: Stepper motor
– Structure Material: All metal, CNC machined
– Exterior finish: Anodized black
– Polar Scope: iPolar electronic polar scope
– PEC: Yes, Permanent PEC
– Latitude adjustment range: 15º ~ 65º
– Azimuth adjustment range: ± 5º
– Level indicator: Level bubble
– Control system: GOTONOVA/Commander
– Hand Controller: Go2Nova® 8409 with ~212,000 objects database
– Tracking: Automatic
– Maximum slew speed: 6º/sec
– Power consumption: 0.5A(Tracking), 1A(GOTO)
– Power Requirement: 12V DC, 5A
– AC adapter: 100V ~ 240V (included, indoor use only)
– Power off brake: Electronic friction brake
– Power-down memory: Yes
– Wi-Fi: Built-in
– Communication port Yes (Wi-Fi and USB)
– Autoguide port: Yes (ST-4 compatible)
– Firmware upgrade: Yes
– Tripod: Optional
– Operation temperature: -20ºC ~ 50ºC (hand controller -10ºC ~ 40ºC)
You can learn more about the iOptron HEM27 and HEM27EC Mounts here.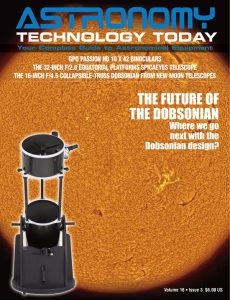 And to make it easier for you to get the most extensive news, articles and reviews that are only available in the magazine pages of Astronomy Technology Today, we are offering a 1 year magazine subscription for only $6! Or, for an even better deal, we are offering 2 years for only $9. Click here to get these deals which only will be available for a very limited time. You can also check out a free sample issue here.