The ZWO ASI533MM Pro is a cooled monochrome camera that comes with an impressive full well of 50,000e and a large 9.05MP sensor. The size of the sensor gives this camera a 14 bit dynamic range and provides astrophotographers with crisp clear images. This camera offers high-quality features like high QE and high frame rate and also comes with no amp glow, readout noise as low as 1.0e, a 3.76μm pixel size, and 2-stage TEC cooling technology.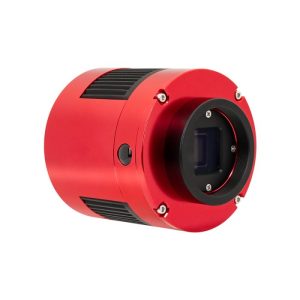 The ZWO ASI533MM Pro camera has a body design equipped with an AR-coated window and an electronic shutter with no vibration. The square back-illumination means this camera has a relative QE of up to 80%.
The cooling technology comes in the form of TEC Cooling and is a two-stage regulation with a thermal delta of up to -35° C. The 2-stage thermoelectric cooler greatly reduces the dark current and improves the signal-to-noise ratio, even during long exposures made up of hundreds of seconds.
The ZWO ASI533MM Pro incorporates the Sony IMX533 Sensor which is back-illuminated to help improve sensitivity and noise reduction. The ASI533MM Pro sensor uses zero amp glow circuitry, meaning you have no reason to worry about amp glow, even when using high gain, long exposure imaging.
Sony's IMX533 sensor comes complete with 3.76 x 3.76 micron pixels and a diagonal of 15.99 mm. This 1″ sensor gives excellent performance – comparable to SCMOS and EMCCD sensors – and has a resolution of 3008 x 3008. With a sensor of this size, you will be able to image entire star clusters without losing the details of single stars within the cluster. The 14 bit digital output of the Sony sensor allows for a possible readout signal of 9m effective pixels at a high speed of 20 frames per second. The ASI533MM sensor works for images that required high and low noise.
The ASI533MM Pro Camera comes with USB3.0 compatibility, meaning that you will have a high frame download speed while avoiding any data loss during downloads. The included USB2.0 hub comes with two USB2.0 ports that can be used for the connecting to the driving chamber. You'll never miss a frame with 256MB DDR3 internal memory, you can be sure that you data is safe, even when using the USB2.0 outputs. ZWO has ensured that the camera is compatible with Windows, Mac, and Linux.
The ZWO ASI533MM Pro specifications include:
– Pixel Size: 3.76 μm
– ADC: 14 bit
– Sensor: IMX533 Square Back-Illuminated CMOS
– Resolution: 3008 x 3008
– Sensor Size: 11.31 mm x 11.31 mm
– Max FPS at Full Resolution: 20 FPS
– Read Noise: 1.0e-3.8e
– Full Well: 50,000 e-
– QE Peak: >80%
– Exposure Range: 32 μs – 2000 s
You can learn more about the ZWO ASI533MM Pro here.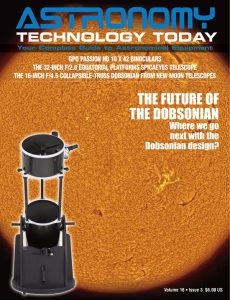 And to make it easier for you to get the most extensive news, articles and reviews that are only available in the magazine pages of Astronomy Technology Today, we are offering a 1 year magazine subscription for only $6! Or, for an even better deal, we are offering 2 years for only $9. Click here to get these deals which only will be available for a very limited time. You can also check out a free sample issue here.