Celestron is expanding their smartphone-compatible telescopes with the new Celestron StarSense Explorer Dobsonians. Joining the StarSense Explorer LT and DX telescopes are 8" and 10" Dobsonians which are the ideal option for anyone interested in exploring amateur astronomy.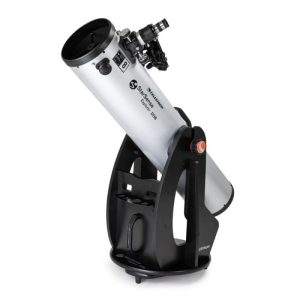 Thanks to the Celestron's StarSense app's user-friendly interface and detailed tutorials and the classic, easy-to-use classic Dobsonian OTA design, even experienced amateur astronomers will appreciate the 8" and 10″ Dobsonian's which offer satisfying aperture and fun technology that puts your smartphone to work.
The Celestron StarSense Explorer Dobsonians telescope system uses your smartphone as a self-contained plate-solving system. Simply put, plate solving is used to determine the current pointing position by extracting star pattern data from images of the night sky. Celestron's StarSense Explorer is the first app designed to use the power of plate solving to figure out a smartphone's current pointing position. When coupled with the specially designed smartphone dock on a Celestron StarSense Explorer telescope, you have a manual telescope system that has the ability to capture an image of the night sky, process that image, extract the star pattern data and determine the center coordinates, all by itself, without requiring telescope alignment from the user.
The StarSense Explorer dock isn't a normal, off the shelf smartphone holder for your telescope. It has a specially designed integrated mirror that works in conjunction with your smartphone's camera to gather star pattern data for the StarSense Explorer app. A built-in shade keeps stray light from reflecting off the mirror and messing with the data. X-Y adjustment knobs allow the dock to hold many different smartphone sizes and oftentimes the case can be left in place.
The StarSense Explorer Dobsonian telescopes work with a wide range of smartphones, including the iPhone 6 or higher and Android 7.1.2 smartphones that were manufactured in 2016 onward and have a camera, gyro, and accelerometer sensor. You can find the app download in the Apple App Store or Google Play.
When you launch the app for the first time you'll follow a simple two-step process that aligns your smartphone's camera with the telescope's field of view. Once set up, the app displays a scene of the night sky and a bullseye to show you where it is currently looking. Then it is up to you to decide what you want to look at.
The easiest and fastest way to do that is simply to choose from the "Tonight's Best" observing list, which is automatically generated to show you popular objects that are currently visible from your location. Depending on the time of year, your location, and the time of night, the list might include planets like Jupiter or Saturn, galaxies, nebulae, star clusters, and more.
Equipped with XLT reflective coatings, both the 8"and 10" models offer good light throughput and offer primary mirrors with low-expansion material which provides more optical path stability during fluctuating temperatures. The thin veins for the secondary mirror holder ensure there are minimal diffraction effects. The OTA body is silver in color, matching the other StarSense Explorer series telescopes, and on the side of the optical tube, you will find a convenient carry handle for easy transport to star parties or your favorite observation spot. Celestron has included a panning knob for an ergonomic grip when pointing the telescope, preventing the introduction of heat from your hands into the optical system.
The alt-azimuth StarSense Explorer Dobsonian base includes many features that will make your viewing sessions easy and enjoyable. Both sturdy and aesthetically pleasing, the Dobsonian base is made from CARB compliant particle board with melamine surfaces and edge trim. For smooth up-and-down motion, this base has large 6″ diameter altitude bearings.
Integrated into the base is an altitude "brake" system. This system gives variable tensioning of altitude axis motion, meaning you get ultra-smooth motions, even with slight imbalances. Unique to this base are the braces for the side panels that provide extra stability and rigidity. These types of braces are usually reserved for larger Dobsonians and do a great job to ensure the stability of the StarSense Dobsonian series setup.
The StarSense Explorer Dobsonian base includes an easy-to-grip carry handle to make travel easier. You can also remove the eyepiece rack during times of travel and then put it back once you need a handy place to put extra eyepieces during your observation sessions.
Both the 8″ and 10" Dobsonians include the StarSense Explorer dock and code card, a 25 mm 1.25″ Omni Plossl eyepiece, a Star-dot finder (for initial alignment if desired or daytime use), and a collimation cap. They also come with a high-quality 2" Crayford focuser. The Crayford design provides precise and smooth movements without focus shifting. It also includes a 2" to 1.25" adapter and a 2" extension tube, so you can use virtually any 1.25" or 2" telescope eyepiece with your StarSense Explorer Dobsonian. The focuser also features a thumbscrew so you can lock in the sharpest focus.
You can learn more about the Celestron StarSense Explorer Dobsonians here.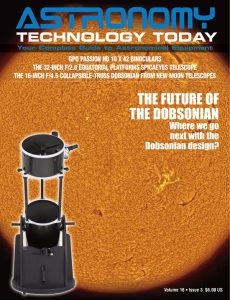 And to make it easier for you to get the most extensive news, articles and reviews that are only available in the magazine pages of Astronomy Technology Today, we are offering a 1 year magazine subscription for only $6! Or, for an even better deal, we are offering 2 years for only $9. Click here to get these deals which only will be available for a very limited time. You can also check out a free sample issue here.