New from Altair Astro for 2022 is the updated Altair Wave Series 130mm Triplet APO. It offers excellent color correction for high resolution imaging with demanding new generation color CMOS cameras and is versatile enough for visual use as well.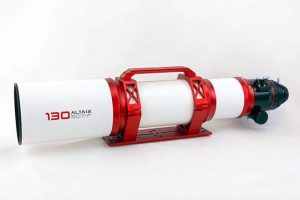 As the Altair Astro team notes, "In response to a growing demand from the astro-imaging market, our 2022 optical tube includes a better designed front tilt adjustable lens cell, a more robust M92 dual speed 3.7″ "Rack 'n Pinion" focuser, front dew-shield with adjustable fit and a longer Losmandy dovetail bar for easier balancing. A 100mm removable extension tube in front of the focuser gives you 100mm additional backfocus, so you can use Binoviewers without a Barlow lens for widefield observation. An aluminum push-fit dust-cap is included for the front lens."
The Altair Astro 130mm F7 ED Triplet APO refractor uses a 905mm F7 focal length ED triplet lens which can be reduced to 724mm F5.6 for astro photography with 0.8x M92 PlanoStar reducer. The objective glass is annealed, therefore free of internal stresses and striae which can affect optical quality in large size refractors. Glass batch data is used to inform final figuring. The result is color aberration free high power views for performance at the limit of the 130mm aperture.
Suitable for astro imaging or visual use, this is a capable telescope in all areas. The telescope is ideal for serious planetary viewing, enabling faint and subtle details to be observed in high contrast. The moon, Jupiter and Saturn are very good targets for the Wave 130. Solar imaging with a Quark or similar Hydrogen Alpha Etalon and Altair 140mm D-ERF turns it into a capable solar telescope, while still allowing full day or night versatility.
A rigid aluminum tube gives the ideal thermal properties for any large air-spaced triplet refractor, allowing the use of Altair DewZapper dew control heaters to conduct heat to the optics and confer quick thermal equalization. The tube is relatively freedom from tube currents when it comes to cool-down.
Lightened CNC machined tube rings give a stable mounting platform for astro photography, and a top handle allows easier mounting of this ~13kg telescope. A large dewshield (with improved mechanism) delays the onset of dew and keeps dust and pollen away from the objective.
The new rack and pinion dual speed focuser has a smooth Teflon lined rotation system and the end cap can be removed to attach the M92 PlanoStar TM 1.0x Flattener or M92 0.8x reducer. Altair Astro recommends the Altair Astro 60mm Deluxe Finder Scope which is a perfect fit and can double as an autoguider for imaging. They also recommend the optional Altair Astro 60mm RACI finder scope Altair MiniGuider 60 for autoguiding with this telescope. The focuser is compatible with most finder scopes.
An Altair 2″ Prism Diagonal and Altair Big Prism Binoviewers are recommended for ultra-sharp contrasty views for visual observing. This scope is binoviewer-friendly with 100mm extra backfocus produced by removing the extension tube.
For enhanced astro imaging Altair Astro recommends the optional Altair PLANOSTAR M92 1.0x Field Flattener. It attaches directly to the focuser when the rear assembly is unscrewed and no adapter is required. The optional Altair PlanoStar 0.8x M92 Reducer Field Flattener converts the Wave Series telescope into a fast F5.6 astrograph. It attaches directly to the focuser when the rear assembly is unscrewed, and no adapter is required.
The Altair 2″ Prism Diagonal and Altair Big Prism Binoviewers are recommended for ultra-sharp contrasty views. This scope is binoviewer-friendly with 100mm extra backfocus produced by removing the extension tube.
As the Altair Astro team notes, "The Wave Series means the ultimate QC for the price. The 130mm Wave Series triplet APO optics are carefully finished at the final stages of production and repeatedly tested until signed off by the optician in charge of the production run. Before anti-reflection coating, the lenses are placed on the Altair owned testplate to assess the deviation from the ideal design curvature for figuring until the correct curvature is achieved. During assembly, the individual lenses are assembled in the lens cell, marked and rotated and re-centred with reference from a double pass autocollimator. Many iterations are required to get the best alignment and centering combination – there are 6 glass surfaces to deal with in the case of a triplet lens assembly. This final QC increases the cost of the telescope, and may introduce a 2-3 day delay in shipping, however it also allows our optical guarantee to be met on arrival, anywhere in the world."
They continued, "Each lens cell is tested between adjustments, and small changes are made in rotation or centering, or re-spacing of the elements relative to each other. Sometimes this can result in very small dust particles between the lenses, which have absolutely no effect on the performance of the telescope whatsoever (because they are at the entrance pupil), but are inevitable during this iterative process. If you are concerned about this please get in touch and we will recommend another optical tube with lesser assembly time, slightly different glass, and almost but not quite the same performance. We do believe that, at this aperture, it is preferable to have a lens which has been adjusted for optimum performance instead of a lens which is cosmetically perfect. Each lens cell has a serial number, guaranteeing its originality as a genuine Altair Astro optic."
They also noted, "Lens numbers start afresh with each major change in production. Once the optimum setup is reached, the lens is signed off, a laser interferogram image in 532nm green light is inputted into AtmosFRINGE software to produce a test report showing the lens characteristics, which is included with each telescope. The image is a snapshot in time of the lens after assembly. Altair Astro has been performing this QC process since 2008."
The Altair Astro 130mm F7 ED Triplet APO features include:
– 130mm F7 multi coated APO objective lens using top quality ED glass from Japan. Excellent color correction for imaging with demanding Color CMOS cameras.
– Highest practical magnification 250x, light grasp of 67% more than a 102mm (4″) refractor.
– 12kg weight with rings and 335mm Losmandy dovetail plate.
– Length 96cm with dewshield extended, 81cm with dewshield retracted.
– Absolute minimum transport tube length with both focuser and extension tube removed is 66cm.
– New 92mm (M92) Rack 'n Pinion dual speed focuser with 1:10 ratio coarse and fine knobs.
– 100mm Extension tube in front of focuser can be removed to produce additional back-focus for imaging or Altair binoviewers.
– 2″ to 1.25″ eyepiece adaptor included.
Tube rings with standard M6 hole pattern, three holes with 30mm center to center spacing.
– Losmandy-style dovetail bar included with carry handle.
You can learn more about the Altair Wave Series 130mm Triplet APO here.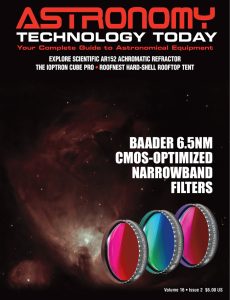 And to make it easier for you to get the most extensive news, articles and reviews that are only available in the magazine pages of Astronomy Technology Today, we are offering a 1 year magazine subscription for only $6! Or, for an even better deal, we are offering 2 years for only $9. Click here to get these deals which only will be available for a very limited time. You can also check out a free sample issue here.