The Starwave 60ED Imaging Refractor from Altair Astro offers a very portable refractor telescope with FCD100 ED glass, suitable for astrophotography as well as visual use, day or night-time.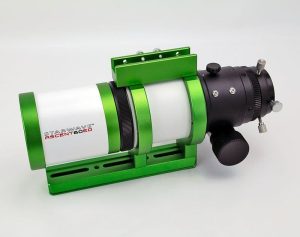 The Starwave 60ED is super compact with a modular design and can be ordered with various accessories. It offers a the rack and pinion focuser and optional guide scope clamp for imaging. The FCD100 ED Doublet lens gives very good color correction, especially when controlling hot blue stars.
The Starwave 60ED facilitates astrophotography with a dual speed imaging friendly focuser.
The telescope includes a rack and pinion focuser with dual speed control and tension-adjustment. This smooth focuser can be used manually for critical fine focusing for imaging or visual use. The course focus knob can be removed to attach a motor focuser and a rear Camera Rotator is included for easy framing. The optional 0.8x reducer will screw directly into the rear Camera Rotator if you remove the rear 2″ push-fit adaptor.
The Starwave 60ED package also includes a top-mounted guide scope clamp to attach any Altair Miniguider 32mm (MG32) or Starwave 50mm or 60mm guide scope. You will need to remove the "stalk" from your guide-scope to attach it to the clamp by means of the crosspiece. The clamping screws have non-marring tips.
A finder scope or RDF (Red Dot Finder) bracket can be attached to either side of the X-Rings or the focuser body. You will need the Altair Astro Universal Finder Bracket. The Starwave 60ED is also compatible with the Daystar Quark and Altair 2″ Hershel Wedge allowing widefield views of the sun.
The Starwave 60ED becomes a fast astrograph at f/4.8 with the optional Altair Astro 0.8x Reducer. By attaching the dedicated 0.8x reducer you get a fast flat field astrograph operating at f/4.8 for wide field shots with a focal length of 288mm giving you the flexibility of two focal lengths in one. Optimum spacing from the rear M48 flange to the image sensor for both 1.0x flattener and 0.8x reducer flattener is 55mm.
Spot size is particularly well matched to the Altair Hypercam 183C, 183M, 269C and other CMOS astronomy imaging cameras. There is plenty of space to mount a Hypercam TEC or Fan Cooled Camera and Altair Magnetic filter holder. You can choose a complete Spacer and Magnetic filter holder kit when ordering. You will get a 2″ Magnetic filter holder, with the correct spacers for either Hypercam Fan Cooled or Hypercam TEC Cooled cameras at a discount, without having to choose them separately.
The complete Starwave 60ED package includes:
– 60mm F6 ED Doublet refractor optical tube with dewshield.
= Guide Scope Clamp to mount on top of tube rings.
– 60mm FCD100 ED Doublet Lens assembly, 360mm focal length, housed in a fully collimatable, CNC machined cell.
– Focuser CNC Machined Black Anodized Dual Speed 1:10 ratio Rack 'n Pinion (Geared) with brass rack gear and tension adjustment (ideal for imaging).
– Rear Camera Rotator 2″ to 1.25″ eyepiece adaptor with brass compression rings.
– Rear 2″ Push-fit adaptor with 3x clamping thumbscrews for extra security and alignment.
– 200mm dovetail bar with Vixen-format 44mm profile.
– Removal of rear 2″ Pushfit-adaptor allows threaded attachment of dedicated reducer and flattener.
– Special "X-Rings" with quick release clamp and multiple mounting points.
– Anodized aluminum push-fit lens cap and rear 1.25″ dust plug.
Starwave 60ED Specifications include:
– Full multicoatings on all optical surfaces.
– Highest practical magnification 95x, Limiting magnitude 11.59.
– Light grasp approx. 73x human eye.
– 23cm length, dewshield retracted, 30cm extended.
– Approx. weight 1.5kg (including ring and rear camera-rotator).
You can learn more about the Starwave 60ED here.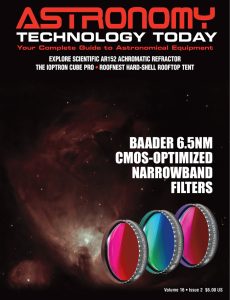 And to make it easier for you to get the most extensive news, articles and reviews that are only available in the magazine pages of Astronomy Technology Today, we are offering a 1 year magazine subscription for only $6! Or, for an even better deal, we are offering 2 years for only $9. Click here to get these deals which only will be available for a very limited time. You can also check out a free sample issue here.