The new Orion EON 70mm ED Quadruplet Astrograph offers a focal length of 350mm at f/5. And with Hoya FCD-100 ED glass, your photographs will look stunning – with high contrast, excellent color correction, and a beautifully flat field of view.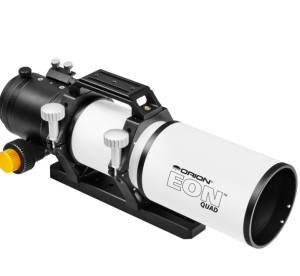 The 70mm EON Quad features a four element optical system, to produce an excellent flat field of view without the need of extra field flattener lenses. Simply attach your camera and find focus – the edges are flat and corrected already. Two lenses are made from Hoya FCD-100 ED (extra-low dispersion) glass for exceptional color correction and sharpness. And with an image circle of 43mm, even when attaching a full format camera, there will be minimum vignetting at the edges of the field of view.
With the Orion StarShoot G26 APS-C cameras, the field of view is 3.8°x 2.6°, and with the G24 Full Format, the field is 5.9° x 3.9°.
The 3″ rack-and-pinion focuser offers  a 10:1 reduction gear and a large bias cut rack to minimize any backlash. Your camera will thread directly onto the focuser instead of using a 2″ nosepiece. This fully locks the camera in position for stability as well as flex-free operation.
The 360° rotatable focuser collar will allow for precise composition of your photograph before locking down solidly. To attach your camera, two step-down threaded adapter rings come standard with the 70mm EON, with interfaces including male 42mm t-thread, male 48mm t-thread, and the native female 54mm thread of the focuser itself. The 54mm-48mm adapter also includes a forward facing internal 48mm x 0.75mm thread pocket to attach some 3rd party filters that can utilize that specific thread. The focus point is located 69.5mm behind the 48mm adapter, leaving plenty of room for DSLR cameras, or even monochrome cameras coupled to filter wheels and off-axis guiders.
Different camera models have widely varying back-focus requirements. The focuser drawtube has a 29.5mm focus travel range, so be sure to measure where your camera will focus, and add optional extension t-thread spacers if necessary to reach that focus with your particular camera. This is an astrograph only with adapters designed to attach cameras, but not eyepieces.
The dew shield on the EON 70mm Quadruplet Astrograph Refractor slides in and out, making the entire telescope only 12.75″ long when fully retracted. When extended, small setscrews in the dew shield bevel can be tightened down to hold the dew shield firmly in place – ideal if using a flat panel for flat field calibration frames when you want to rest the weight of the panel on to end of the dew shield without it sliding down.
Dual machined rings hold the refractor solidly in place, and include multiple threaded holes on the side walls for extra accessory mounting possibilities. The bottom Vixen-style dovetail bar attaches to any Vixen compatible telescope mount, and the top rail also includes threaded holes for more accessories and even has an Arca-Swiss dovetail cut into the edges of the dovetail bar.
The Orion EON 70mm ED Quadruplet Astrograph includes a hard case, a slip-on metal dew shield dust cover, and a thread-on rear port cap. A standard Orion finder dovetail shoe is bolted to the side, making it ideal for attaching a guidescope.
The Orion EON 70mm ED Quadruplet Astrograph specifications include:
– Optical design: Refractor
– Optical diameter: 70mm
– Focal length: 350mm
– Focal ratio: f/5.0
– Coatings: Fully multi-coated
– Optics type: 4-element optical system
– Glass material: Extra low dispersion FCD-100
– Resolving power: 1.66arc*sec
– Optical quality: Diffraction limited
– Focuser: 3″ dual-speed Rack-and-pinion
– Mount type: Optical Tube without Mount
– Backfocus distance: 69.2mm
– Tube material: Aluminum
– Length of optical tube: 12.8 in.
– Weight, optical tube: 6.6 lbs.
– Additional included accessories: 54mm – 48mm step down ring (0.75mm thread pitch), 48mm to 42mm step down ring (0.75mm thread pitch)
– Other features: Flat field images up to full format sized sensors, 43mm image circle, Includes Hoya FCD-100 ED glass
You can learn more about the Orion EON 80 ED Apochromatic Refractor here.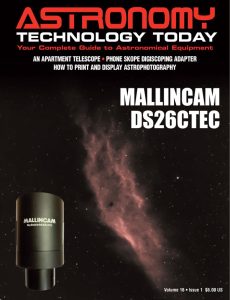 And to make it easier for you to get the most extensive news, articles and reviews that are only available in the magazine pages of Astronomy Technology Today, we are offering a 1 year magazine subscription for only $6! Or, for an even better deal, we are offering 2 years for only $9. Click here to get these deals which only will be available for a very limited time. You can also check out a free sample issue here.