Tele Vue recently announced a number of product anniversaries, providing a glimpse all the way back the mid 70's. Here is a rundown of those products.
1977
Tele Vue built and sold a 6.1″ aperture, 279mm focal length, f/1.8 objective way as well as a 5.2″ aperture, 343mm focal length, f/2.6, But these weren't telescopes, they were flat-field TV projection lenses, Astronomical gear wasn't part of the Tele Vue brand until the 1980's.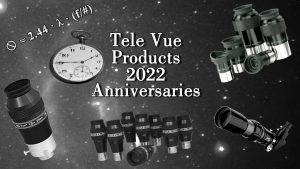 1982
In 1982 Tele Vue add the eyepieces offering Wide Fields with 65° apparent field of view that fit between the Plössl (50°) and Nagler (82°) eyepiece lines introduced in the prior two years.  This line has since been superseded by their Panoptic lineup having similar focal lengths but a wider apparent field (68°), better edge correction, and longer eye-relief.
There was one new Plössl introduced that year – the popular 32mm slotted into the lineup between the 55mm and 26mm Plössls. It provided the widest possible true field in 1¼" barrel eyepieces. That focal length is still in production today.
1992
Tele Vue introduced the portable Pronto telescope. With its 70mm diameter objective, 450mm focal length (f/6.4), and 2″ drawtube, it could function as a terrestrial spotter or grab-n-go astronomical telescope. Low power fields of 11-lunar diameters made it a great scope for sweeping through the Milky Way.  Later models had a 480mm focal length bringing the f/ratio to 6.8. The current production Tele Vue-76 APO scope has the same utility and focal length as the later Pronto but with a bigger 76mm objective and better color correction.
2002
This year saw Tele Vue introduce the 60-degree Everbrite diagonal, the 24mm Panoptic (68° apparent field) eyepiece that provides the widest possible true field in 1¼" barrel eyepieces at a higher power than their 32mm Plössl, and the 2x Powermate amplifier for visual and imaging use.
2007
Tele Vue introduced its fully corrected, 100° apparent field eyepiece when the 13mm Ethos was introduced. This eyepiece offered high contrast, comfortable eye relief, and full-field sharpness along with control of astigmatism, field curvature, lateral color, angular magnification distortion correction, and low pupil sensitivity for daytime use.
2012
Most of the Delos (72°) eyepiece line of long eye-relief eyepieces were introduced this year. These were the 17.3-, 14-, 12-, 8-, 4.5-, & 3.5-mm models.
The Delos was conceived as a longer eye relief Ethos. Reducing the field to 72° allowed freedom to increase eye-relief, while controlling pupil aberrations and overall size. The Delos design achieves full field sharpness, virtually perfect f θ (theta) distortion mapping, and color neutrality. Image fidelity is maximized utilizing glass-matched multicoatings and anti-reflection surfaces throughout the eyepiece.
2017
The final group of DeLite (62°) long eye relief eyepieces were released in 13-, 4-, & 3-mm focal lengths to fill out the nine eyepiece line.
This was also the year that they started selling afocal eyepiece adapters for the TNVC/PVS-14 Gen-3 Night Vision Monocular, a white phosphor Gen-3 image intensifier tube which provides a much more natural view than the emerald green of previous night vision devices.
You can learn more about Tele Vue's current lineup of products here.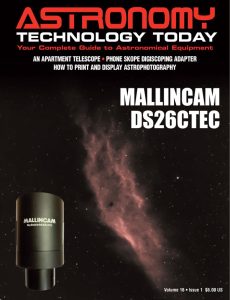 And to make it easier for you to get the most extensive news, articles and reviews that are only available in the magazine pages of Astronomy Technology Today, we are offering a 1 year magazine subscription for only $6! Or, for an even better deal, we are offering 2 years for only $9. Click here to get these deals which only will be available for a very limited time. You can also check out a free sample issue here.