The new Baader RGB Bandpass CMOS Filter Set is the latest addition to the Baader CMOS optimized filter family introduced earlier this year.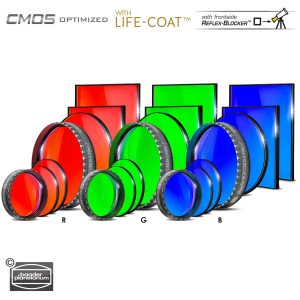 The filter set is suitable from f/15 to f/1.8. They offer anti-reflection RGB filters (red/green/blue) with extremely high transmission of the respective color channel, thus simultaneously reducing stray light and reflections to an unprecedented level. The balanced RGB design allows subframes to be taken with the same exposure time – extremely important for automated imaging tasks.
The set features Baader Reflex-Blocker technology which offers hard coating and planeoptically polishing – with Baader Life-Coat sealed coating edges. The filter set also offers blackened edges all around, with filter-lead-side-indicator in the form of a telescope-sided black outer rim. The Baader RGB Bandpass CMOS Filter Set is optimized for modern CMOS cameras, but likewise excellent for CCD camera technologies.
As a family, the new Baader CMOS optimized filters were developed by the Baader team to cost-effectively tackle the problem of filters being associated with creating halos when put into close vicinity of correcting lenses in conjunction with latest generation CMOS-chips.
Features of the new Baader CMOS optimized filter family include:
– Increased contrast.
– More narrow passbands.
– Baader Reflex-Blocker coatings for freedom from halos, even under most adverse conditions concerning aux-optics.
– FWHM on each filter category carefully designed to allow for 1:1:1 exposures, matched for typical CMOS quantum efficiency and S/N ratio.
– Identical filter thickness to existing standards, with utmost care for parfocality.
– Blackened edges all around, with filter-lead-side-indicator in the form of a black frontside outer rim, to additionally eliminate any reflection due to light falling onto the edge of a filter.
– Each filter is coated individually, with sealed coating edge.
– Baader Life-Coat: Hard coatings to enable a non-aging coating for life – even in a most adverse environments.
Every Baader CMOS cell mounted filter is cut as a round or square disc in the according size (1¼", 31mm, 36mm, 2″, 50,4mm, 50x50mm, 65x65mm), and then is polished plane to a quarter wavelength on both sides on a computer numerically controlled polisher. After that, the polished blanks are submitted to the coating procedures. This sequence is also used for all  unmounted filters.
The Baader team deliberately avoids cutting filters from larger sheets, because the coating layers can be damaged at the edges and suffer from microscopic fissures. That lets moisture penetrate and the filters are subject to ageing.
Damage to multi-layered filters at the edge results in greater damage than to a single anti-reflection coating. As the filters are not cut-outs, every individual filter disc can then be coated, but not right to the edges. This seals the filter, and no moisture can penetrate into the coating layers. Hence, the narrow-band filters are free from aging, and can be carefully cleaned without hesitation and as often as necessary.
As the Baader team notes, "Our UV/IR blocking filters were exposed for 1 hour to boiling water at the B+W (Schneider Kreuznach, Germany). This accelerated aging test corresponds to approximately 5 years of filter aging in actual use. The edge-sealed filters showed no aging and above all no changes to the measured transmission at different wavelengths."
You can learn more about the Baader RGB Bandpass CMOS Filter Set here.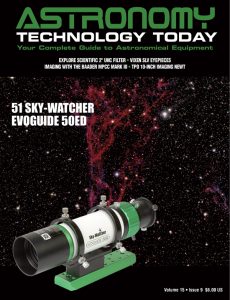 And to make it easier for you to get the most extensive news, articles and reviews that are only available in the magazine pages of Astronomy Technology Today, we are offering a 1 year magazine subscription for only $6! Or, for an even better deal, we are offering 2 years for only $9. Click here to get these deals which only will be available for a very limited time. You can also check out a free sample issue here.