The PlaneWave 14-inch DeltaRho 350 Cassegrain Reflector Telescope is designed for unsurpassed wide-field imaging and ease of use in the field.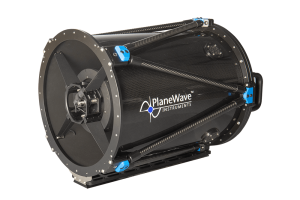 The PlaneWave 14-inch DeltaRho 350 is a widefield astrograph designed for astrophotography, research surveys, and space domain awareness applications where large fields of view are required. With 1,050mm of focal length, the DeltaRho 350 operates at f/3 and yields a corrected 60mm image circle, perfect for pinpoint stars on full-frame sensors. Since the DeltaRho 350 optical design is Cassegrain with four corrective lenses permanently aligned within the backplate, users can install large imaging trains without blocking the light path of the primary mirror.
This telescope is designed not only for remote observatories under pristine dark skies but also for astrophotographers looking to push the boundary with short exposures from light-polluted suburban skies. The signal-to-noise ratio that the DeltaRho 350 provides is impeccable. For example, PlaneWave captured the North American Nebula data at this link by using only 5 x 1-minute sub-exposures per LRGB filter, from suburban Adrian, Michigan.
The DeltaRho 350 is a Cassegrain optical design which means the imaging train is secured at the back of the telescope and does not block the light path compared to prime focus designs, which severely limit the user's ability to operate with filter wheels or large cameras. Since the primary mirror is fixed in place collimation is quickly achieved by adjusting the tip and tilt of the secondary mirror.
The PlaneWave 14-inch DeltaRho 350 provides a perfectly flat field so your astrophotographs will have stunning clarity from corner to corner of the image without field curvature degrading the photos. With the simplicity of single-mirror collimation, the stray light control of advanced baffles, the structural performance created through finite element analysis (FEA), and decades of telescope design experience, the DeltaRho 350 is an exceptional diffraction-limited telescope.
The Delta Rho optical design was created by PlaneWave's CTO David Rowe with the goal of providing a wide, corrected, field of view that yields pinpoint stars across a 60mm image circle. The primary and secondary mirrors are composed of fused silica glass, which ensures that changing temperatures do not distort the shape of the mirrors that can degrade image quality.
Fused Silica is a synthetic amorphous silica glass of the highest purity and one of the most transparent glasses made. The optical and thermal properties of fused silica are superior to other types of glass due to its purity. Its transmission and homogeneity exceed those of crystalline quartz without the problems of temperature instability inherent in the crystalline form.
Fused Silica has a coefficient of thermal expansion six times lower than Borosilicate (Pyrex) glass, which means that as fused silica cools down, it preserves its shape to a high degree of accuracy. This translates into consistent optical performance and unchanging focus over temperature changes. With its high melting temperature ()~ 1.600 degree Celsius), a very low coefficient of thermal expansion and resistance to thermal shock, fused silica is the material of choice for professional observatories as well as various scientific applications.
Advanced baffling design prevents stray light from entering the light path and adversely affecting astroimages. Carbon fiber optical tube and truss poles mean the telescope is extremely lightweight and helps prevent thermal expansion that can distort an imaging system. This adds up to an extremely stable optical tube for advanced imaging experience.
Three cooling fans have been strategically placed on the backplate and side of the Delta Rho optical tube in order to quickly cool the mirrors to ambient temperatures. Mirrors that are equilibrated to the ambient temperature help the telescope produce the highest quality astroimages possible. The fans are controlled by a computer if the optional Electronic Focus Accessory (EFA Kit) is purchased.
PlaneWave 14-inch DeltaRho 350 users can experience pinpoint stars edge-to-edge and a 170 x 170 arcminute field of view when using large 16803/4040 size camera sensors. This field of view is nearly 3 times as large as Planewave's CDK14.
To maximize the DeltaRho 350's performance, Planewave has created a slimmer focuser and rotator solution, called Series-5. The Series-5 focuser and rotator are stackable, which means more flexibility to the imaging train. Users can install either the standalone focuser or the stacked focuser and rotator for greater imaging capability.
The DeltaRho 350 offers 5.60″ of back focus from the mounting plate on the rear of the OTA. Thickness of the standalone focuser is 1.675" and the rotator is 1.105″. Combined, the Series-5 focuser, and rotator occupy 2.78" of back focus. With the Series-5 focuser and rotator installed and racked out halfway, the DeltaRho 350 has a remaining back focus of 2.495".
In order to account for image plane tilt, PlaneWave has designed multiple new tip-tilt adapters. Users of the DeltaRho 350 will require the Series-5 to SecureFit tip-tilt adapter that is 0.545″ thick. This will allow users to adapter their cameras with PlaneWave's standard SecureFit interface. The telescope also offers built-in M1 and M2 dew heaters and temperature sensors
Specifications
– Aperture: 350mm (13.75″)
– Back Focus: 147.5 mm
– Dawes Limit: 0.33 arcseconds
– Focal Length: 1050mm
– Focal Ratio: f/3
– Highest Magnification: 700x
– Light Gathering Power2500x
– Optical Design: Cassegrain
– Tube Diameter: 457 mm/9.37 inches
– Tube Length: 584mm
– Tube Weight: 46 lbs
– Tube material: Carbon fiber optical tube and truss pole
You can learn more about the PlaneWave 14-inch DeltaRho 350 Cassegrain Reflector Telescope here.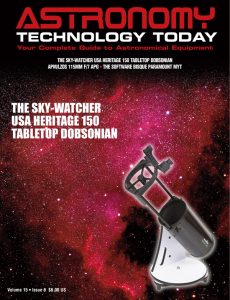 And to make it easier for you to get the most extensive news, articles and reviews that are only available in the magazine pages of Astronomy Technology Today, we are offering a 1 year magazine subscription for only $6! Or, for an even better deal, we are offering 2 years for only $9. Click here to get these deals which only will be available for a very limited time. You can also check out a free sample issue here.