A new update to Software Bisque's TheSky software includes upgraded support for the Gaia Star Catalog.
The European Space Agency's over seven year and counting Gaia satellite observation mission is producing the largest and most accurate star catalog on record, with precision astrometric, photometric and spectroscopic measurements on, at present, almost 1.7 billion stars. The current officially release catalog data is called Data Release 2 (DR2).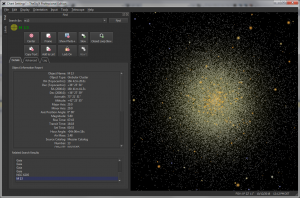 A recently released update to TheSky Professional Edition displays Gaia stars with positions to the milliarcsecond, G/BP/RP mean magnitudes, spectral class, star distance in light years, stellar temperature, and proper motion. Image 1 offers a Sky Chart showing the Gaia stars (only) in the Hercules Globular Cluster (M13).
In a nutshell, the more accurate the star catalog's positions, the more accurate your measurements based on these stars will be. Whether you're using TheSky's Image Link to perform an Automated Pointing Calibration and produce a TPoint Super Model that improves your telescope's pointing and tracking, running a script that finds the astrometric position of double star companions, or studying dynamic nature of stellar proper motion for the past thousand years, you can count on the Gaia catalog.
The entire Gaia DR2 catalog consumes over 1.2 TB of disc space and can be downloaded from the Gaia archive page. When the complete catalog is present, TheSkyX Professional Edition's Sky Chart displays every star from the Gaia catalog and the accompanying "metadata."
If you do not have a super-fast Internet connection, or do not want to clutter your computer's drive with unnecessary data you may not use, TheSkyX Professional Edition includes more easily distributed subsets of the Gaia star catalog that should suit the needs of most.
The larger Gaia subset contains the RA, Dec, magnitude, spectral class and proper motion for 1.7 billion stars. The smaller Gaia subset contains about 100 million stars equally distributed across the celestial sphere and is ideal for determining the astrometric solution for photos as small as about 3 arc minutes across.
TheSkyX version 10.5.0 build 12940 and later is required to display Gaia data. Choose the About TheSky command (Help menu on Windows/Linux, TheSkyX menu on macOS) to make sure you have a compatible version installed. If not, click Help > Check for Updates and install the latest daily build. The Database Add On SSD Version 3 and later includes the small and large Gaia subset databases.
You can learn more here.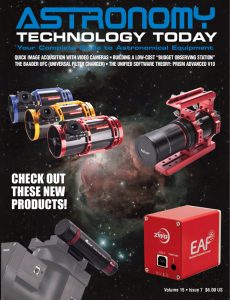 And to make it easier for you to get the most extensive news, articles and reviews that are only available in the magazine pages of Astronomy Technology Today, we are offering a 1 year magazine subscription for only $6! Or, for an even better deal, we are offering 2 years for only $9. Click here to get these deals which only will be available for a very limited time. You can also check out a free sample issue here.