The Orion StarShoot Mini 2mp AutoGuider Camera is an autoguider and imager that uses the Sony IMX 290 monochrome sensor featuring a 12-bit image and 2.9 micron pixels.
With a quantum efficiency of around 80%, stars will be visible in any area of the sky you point your guidescope to – no need to readjust the guidescope positioning to find that "bright" star to lock on to. The exposure range for this camera spans 0.105ms – 1000s, so you can even use the camera to image a range of objects, from bright planets to faint deepsky objects.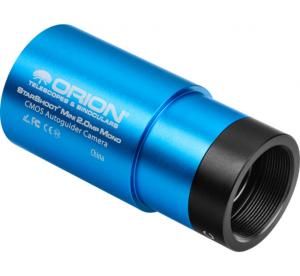 The Orion StarShoot Mini 2mp AutoGuider Camera offers a pixel array of 1920 x 1080 (6.4mm diagonal, 1/2.8″ format). A USB port connects the camera with a laptop, and the ST-4 port connects directly to an autoguider compatible mount.
Orion's StarShootIC software is included free with the camera and allows image capture (both stills and video), and is a great tool for focusing on a bright star when in video mode. You can also connect the camera via the ASCOM driver to PHD2 Guiding and allow it to fine tune the tracking of your mount. Orion has included a 64-bit version of the ASCOM driver so it will work with all third party ASCOM compatible software, including the 64-bit versions.
The front of the StarShoot Mini AutoGuider includes female C-mount threads, to allow a threaded connection to guidescopes. If you have a 1.25″ focuser, you can slip the front of the camera into the focuser, because the entire front section of the camera is 1.25″ diameter. The imaging sensor sits 17.5mm back from the front C-mount threads, or 10.5mm forward when fully inserted into a 1.25″ focuser.
The Orion StarShoot Mini 2mp AutoGuider Camera package includes a USB 2.0 cable (2m), an ST-4 guide cable (2m), and a 1.25″ nosepiece to extend the 1.25″ section of the camera (and it provides standard 1.25″ filter threads). It is compatible with Win 7/8/10.
Specifications for the Orion StarShoot Mini 2mp AutoGuider Camera include:
– Imaging sensor: Sony IMX 290
– Imaging sensor size: 5.60mm x 3.10mm
– Pixel array: 1920 x 1080 (2,073,600 total)
– Pixel size: 2.9 x 2.9
– Imaging chip: Monochrome
– Autoguider capability: Yes
– Exposure range: 0.105ms – 1000s
– A/D conversion: 12 bit
– Mounting: 1.25″ nozzle or c-thread
– USB connection: High-speed 2.0
– Software compatibility: Windows 7/8/10
– Backfocus distance (from T-threads) : 17.50mm
– Weight: 2 oz.
Orion StarShoot Mini 2mp AutoGuider & 30mm Guide Scope Package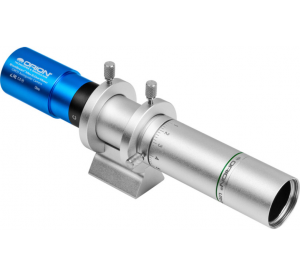 Pairing the Orion StarShoot Mini 2mp AutoGuider with Orion's 30mm Guide Scope offers a complete autoguiding solution. This setup can be purchased as a package and is a perfect match for shorter focal-length, optically fast imaging telescopes. The 30mm Ultra-Mini Guide Scope's multi-coated, f/4.3 optics provides a very wide field of view so you'll always have plenty of options when selecting guide stars.
The Orion 30mm Ultra-Mini Guide Scope C-mount threads offer secure, flexure-free attachment of the StarShoot Mini AutoGuider. The front housing of the Ultra-Mini Guide scope doubles as a precise helical focuser with etched hash-mark scale for easy and repeatable focusing. After an initial helical focus adjustment to match your autoguider device, a thumbscrew allows the focus position to be locked so you'll never have to adjust focus in the field.
A two-ring bracket for the Ultra-Mini Guide Scope with built-in dovetail foot is included which is designed to fit the dovetail base found on Orion telescopes and many other brands. A threaded 1/4″-20 socket on the underside of the dovetail foot allows direct attachment to a universal plate.
Orion StarShoot Mini 2mp AutoGuider & 60mm Guide Scope Package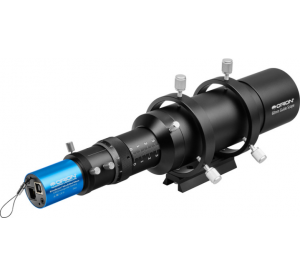 The StarShoot Mini 2mp Mono AutoGuider combined with the 60mm Multi-Use Guide Scope with Helical Focuser provides a very wide field of view, full of a multitude of guide stars to choose from.
The 60mm Multi-Use Guide Scope with Helical Focuser has a large, 60mm aperture lens for better light-gathering than 50mm and smaller models. The larger aperture lets you see more stars in the guide scope field-of-view, for a brighter selection of guide star choices.
The built-in helical focuser allows precise focus adjustments with zero flexure for rigid performance. The focuser moves the attached Mini AutoGuider inwards or outwards while maintaining its orientation, so your field of potential guide stars will not rotate as focus is adjusted. Two heavy-duty guide scope rings with nylon-tipped thumbscrews are included for precise aiming, as is a 3.5″ long (8.9 cm), 1.18″ (3cm) wide Vixen-style dovetail mounting bar for easy attachment.
You can learn more here.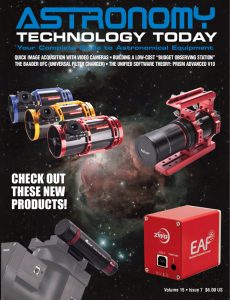 And to make it easier for you to get the most extensive news, articles and reviews that are only available in the magazine pages of Astronomy Technology Today, we are offering a 1 year magazine subscription for only $6! Or, for an even better deal, we are offering 2 years for only $9. Click here to get these deals which only will be available for a very limited time. You can also check out a free sample issue here.