Earlier this year SkiesAway completed its newest remote observatory from its dark sky facility. The observatory complex currently has two a roll-offs. The first one, Falling Eagle Observatory, is based on a Sky-Shed design, is fully remote, and features (Image 1):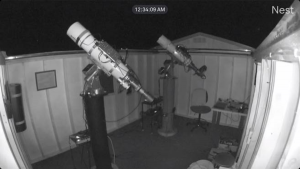 – 3 Sky-Watcher Esprits (2 Esprit 150s, and a 100 piggyback)
– ZWO 6200MM & 6200MC Cameras
– 2 Paramount MX-Plus Mounts
The remote observatory complex is the brainchild of Bryan Cogdell, the founder of SkiesAway, who hosts astronomy events, astrophotography workshops, and observatory installations throughout the country. Sky-Watcher has been developing a fully automated imaging system with Bryan.
According to Cogdell, "The idea and ambition to build this observatory complex began with my lifelong interest in astronomy, astrophotography, and finding a dark sky location I could also call home. It was a lofty goal to want dark skies and a place to live, yet still have paved access with internet and Amazon Prime deliveries. My wife and I searched across the state for years to find the right balance that would work for astronomy and family life."
He continued, "As I started building my first observatory here I collaborated with Sky-Watcher USA and Kevin LeGore of Focus Astronomy, Starlight Xpress, and the software wizardry of Richard Wright. That's when the Paramounts and Esprit refractors were chosen for setting up complete remote access. And we're happy to announce that the Falling Eagle Observatory is online and operational."
The observatory complex resides in California half way between the southern stretches of Big Sur on the Pacific Coast Highway and the city of Paso Robles. It is in the foothills of the Santa Lucia Mountains, the same coastal mountain range that hosts Chews Ridge for the Monterey Institute of Research Astronomy which is about 35.8º N 121ºW. The location offers Bortle class 2 skies; 300 plus combined photometric and spectroscopic nights per year; and 1-2″ seeing.
Cogdell notes on the Falling Eagle Observatory name, "As It so happens that bald eagle's nest here which was a complete surprise to us. They literally fly over the observatory. And on the symbolic side, we tied a little mythology from the constellation Lyra the harp which passes directly overhead in the summer, just as our bald eagles do. Part of that mythology involves an eagle carrying the lyre harp, named Aquila Cadens, or "Falling Eagle."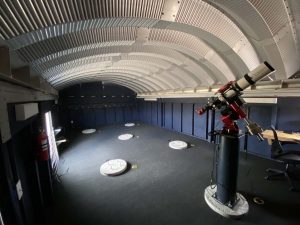 With the completion of the second roll-off, SkiesAway Remote Observatories (SAROs), Cogdell is now offering remote telescope hosting for data acquisition and astro-imaging. Custom designed by Cogdell and Naval Architect Rupert Lyle of Lyle Design, the remote hosting observatory building (Image 2) is commercial-grade on a metal frame with SteelMaster R model roof on a roll-off system, built to exceed local weather and wind loads. The building location, along with pier and wall height considerations allow most telescopes to see to within 10 degrees of the horizon, which is exceptional for a roll-off building.
The building was designed to eliminate concerns and challenges with overhead clearance and telescope park position. The arch roof clears the telescope in any position so that interference with roof closure is not possible.
The observatory can accommodate an instrument as large as a 24" PlaneWave CDK system on an Alt-Az mount, or a 20" telescope on a German Equatorial Mount. The observatory provides a generous 7.5 foot diameter for each pier in the shared roll-off.
The observatory building and location on the parcel has taken local seeing conditions into account. The building is surrounded by flat grassland and is elevated with a subfloor, not a concrete slab for better thermal stability.
You can learn more about the Falling Eagle Observatory here.