The Stellarvue SVX180T is the company's largest apochromatic refractor telescope to date. The new scope is a 180mm, f/7 apochromatic refractor made with an Ohara S-FPL-55 super-low-dispersion center element.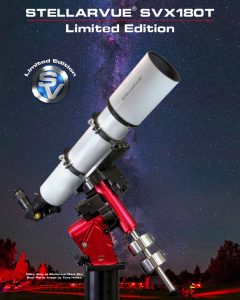 According to the Stellarvue team, "There will only be a limited run of 50 of these telescopes for now, and existing pre-orders are expected to start shipping sometime in 2022! The price for this hand-crafted refractor is $17,995 with the 3.5″ Feather Touch focuser, and deposits are being taken now in the amount of $2000. All SVX180T telescopes come with tube rings, a 13" D-series dovetail bar, a heavy duty case, and a Zygo interferometric test report taken at full aperture in Stellarvue's shop to document the accuracy of these completed objectives."
They continued, "The SVX series optics are rated at .99 Strehl with excellent optical correction of aberrations commonly seen in mass-produced optics. By bringing our optical figuring in-house, we reduced spherical error, astigmatism, coma and trefoil by a factor of five. To attain this level of consistent optical accuracy we go beyond machine polishing. Our experienced opticians use specially-made tools to hand-figure objectives here in our optical shop in Auburn, CA. To see this process in action, watch our YouTube video. Each refractor comes with a color Zygo interferometric test report taken at full aperture in our shop, documenting the accuracy of your completed objective. The Ohara glass melt is finished and approved, the design is finished and work is underway."
The Stellarvue SVX180T offers extreme broadband, full multi-coatings on each surface which transmit more than 99.5% in the visual spectrum, as well as far above and below it. The reason to extend beyond the visual spectrum has to do with imaging. CCD and CMOS detectors in cameras record beyond the visual spectrum. Broadband, full multi-coatings eliminate unwanted reflections on CCD images.
The Stellarvue SVX180T comes standard with a 3.5″ Feather Touch or Stellarvue focuser. It may be upgraded to a 3.5″ Moonlight NiteCrawler focuser for $2,704. Stellarvue will ship the telescope in its thickly padded, heavy duty Roadie style travel case, double boxed.
The Stellarvue SVX180T specifications include:
Objective Lens: 180 mm clear aperture, 1,260mm focal length (F-7), apochromatic triplet using super low dispersion (SD) optical glass. This objective is precision figured in Stellarvue's optical shop to an accuracy of .99 Strehl or higher.
Tube Assembly: Machined, fully baffled, aluminum tube painted instrument white outside, ultra-flat back inside.
Tube Assembly Weight: Under 40 lbs.
Tube Dimensions: The main tube is about 7.95″ in diameter. The complete telescope is about 49 3/4" long with dew shield extended and focuser draw tube retracted. It will be about 9″ shorter with the dew shield retracted.
Dew shield: About 9.1″ diameter, fully retracting dew shield with threaded aluminum cap.
Focuser choices: Option 1. #FTF3545B-A 3 1/2″ focuser with 4 1/2″ of drawtube travel, two part rear adapter with M88.5 opening and M75 adapter, 2″ and 1 1/4″ compression ring adapters. Feather Touch 3.5″ rack and pinion focuser with 2″ and 1.25″ compression ring adapters. Option 2. Moonlight Computerized NiteCrawler WR35 3.5″ focuser with various extension tubes, adapters, 2″ and 1.25″ compression ring adapters. This is a $2704 upgrade.
Rings: R180 CNC-machined mounting ring set with five 1/4″-20 threaded holes top and bottom. Holes are spaced 1.5" and 60mm apart respectively, with one in the center.
Included in the package with this a premier, high-performance, 7″ (180mm) f-7 (1260mm focal length) air-spaced apochromatic triplet refractor is:
– Feather Touch #FTF3545B-A 3 1/2″ focuser with 4 1/2″ of drawtube travel, two-part rear adapter with M88.5 opening and M75 adapter, 2″ and 1 1/4″ compression ring adapters and finder-scope shoe or a Moonlight computerized, rotating. 3.5″ NiteCrawler focuser with extension tubes, M75 adapter, and temperature compensator.
– Finder scope dovetail mounting base
– CNC machined, heavy-duty mounting rings.
– Heavy-duty Roadie case made with 3/8″ plywood, thickly padded with wheels and handle
– Stellarvue F050IW optical finderscope with R050DA dual mounting rings
You can learn more about the Stellarvue SVX102D here.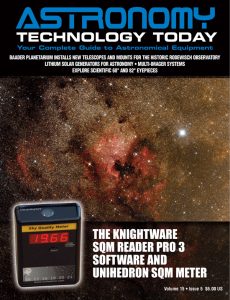 And to make it easier for you to get the most extensive news, articles and reviews that are only available in the magazine pages of Astronomy Technology Today, we are offering a 1 year magazine subscription for only $6! Or, for an even better deal, we are offering 2 years for only $9. Click here to get these deals which only will be available for a very limited time. You can also check out a free sample issue here.