The TPO UltraWide 180 Astrophotography Lens & Guide Scope is among the smallest dedicated astrophotography telescopes on the market. Weighing in at less than a pound, the TPO UltraWide 180 offers a uniquely portable astrophotography telescope/lens.
With a 180mm focal length and a fast f/4.5 focal ratio, this scope can yield fantastic images that cover vast regions of the night sky. The tube itself weighs just 13.9 oz (395 g), meaning you can truly take it anywhere. With the TPO UltraWide 180, you can forget having to leave your telescope at home. It's the perfect imaging companion for going camping, backpacking, and on road trips. It can even tuck into your luggage bag for your next flight — no more wishing you could bring your telescope with you the next time you visit somewhere with dark skies.
The TPO UltraWide 180 features an air-spaced triplet APO design with dual ED elements. When paired with the included three-element reducer, the telescope can provide superior correction that leads to pristine images free of chromatic aberration. Its large image circle can cover crop-sensor cameras with ease, and is even compatible with sensors as large as full frame, though there may be a slight drop-off in corner performance with these sensors.
With an aperture of just 40mm and an overall length of just 145mm, the TPO UltraWide 180 may look like a camera lens at first glance. Make no mistake, though, this small scope can outperform camera lenses designed for cameras in its class with ease. Camera lenses, which are designed for daytime photography, have aperture blades inside that cause diffraction spikes on bright stars, which can be an undesirable effect for astrophotography. The TPO UltraWide 180 is a fixed aperture with no aperture blades, meaning that stars remain round and tight for cleaner images.
Although the TPO UltraWide 180 was designed to be a deep sky astrophotography telescope, it can be used in a myriad of other ways as well. Also included in the box are two extension tubes, tube rings, a Vixen dovetail plate, an Arca-Swiss camera plate, and a 1.25″ eyepiece/accessory adapter.
This means you can use it as a quality guide scope when paired with a mini guide camera, or even use it visually with 1.25″ eyepieces as a main scope or finder scope. The three-element reducer unscrews for visual or autoguiding purposes, which turns the telescope into a 220mm f/5.5 system. The standard Vixen-style shoe will fit into both Vixen saddles and traditional finder shoes. The included Arca-Swiss camera plate allows the telescope to even be fitted directly to a compatible camera tripod.
The TPO UltraWide 180 features a standard back focus of 55mm, which allows for seamless attachment of your preferred camera. For DSLR/Mirrorless camera owners, just use the appropriate M42 T-ring for your camera lens mount and you're good to go. The telescope features 42mm rear threads, so be sure to use an M42 size T-ring. For astronomy-dedicated camera owners, the TPO UltraWide 180's generous back focus can accommodate small additions to the imaging train, such as a filter drawer to hold a multi-bandpass or narrowband filter. By removing the extension tube on the back of the reducer, up to 99mm of back focus spacing becomes available.
The TPO UltraWide 180 specifications include:
– Aperture: 40mm
– Back Focus: 55mm (with Reducer Extension Tube)
– Back Focus: 99mm (without Reducer Extension Tube)
– Camera Connection: M42 x 0.75
– Compatible Eyepieces/Accessories: 1.25″
– Focal Length: 180mm
– Focal Ratio: f/4.5
– Optical Design: Apochromatic Triplet with Dual ED Elements
– Optical Design: Triplet
– Tube Diameter: 52mm
– Tube Length: 145mm (with Reducer)
– Tube Weight: 13.9 oz (395 g)
The TPO UltraWide 180 ships with the following:
– TPO UltraWide 180 Astrophotography Lens
– Three-Element Reducer with Reducer Extension Tube
– Extension Tube 1
– Extension Tube 2
– 1.25″ Adapter
– Tube Rings
– Vixen/Finder Dovetail Plate
– Arca-Swiss Dovetail Plate
– Dovetail Stalk
– Hex Key
You can learn more about the TPO UltraWide 180 Astrophotography Lens & Guide Scope here.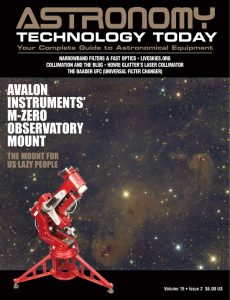 And to make it easier for you to get the most extensive news, articles and reviews that are only available in the magazine pages of Astronomy Technology Today, we are offering a 1 year magazine subscription for only $6! Or, for an even better deal, we are offering 2 years for only $9. Click here to get these deals which only will be available for a very limited time. You can also check out a free sample issue here.