The New Vixen Polarie U Star Tracker is the latest version of the popular Polarie camera platform that automatically follows the movement of the stars. By imaging with a camera mounted on the Polarie U and a tripod, you will be able to produce beautiful starry skies in an image with pinpoint stars.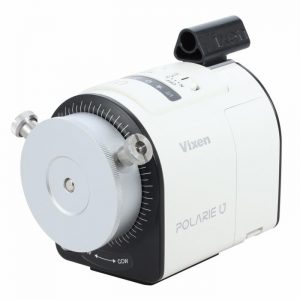 The Vixen Polarie U Star Tracker offers the capability to practice Star-scape photography, with the ability to create images that capture the stars and scenery together, such as the Milky Way and mountains, or the constellations and buildings. Star-scape photography typically uses a wide-angle lens and creates photos where stars and scenery combine.
The New Vixen Polarie U Star Tracker offers an ultra-compact automatic star tracking device that moves your camera according to the diurnal motion of celestial objects for long exposure astrophotographs. The Polarie U also features a function for customizing the rotation speed using a smartphone and you are able to control the intervals of shots by adjusting the shutter release. By linking Polarie U's motion with the shutter release, you can easily set up complex shooting controls required for time lapse and interval photography, using your smartphone.
The Vixen Polarie U Star Tracker is a completely re-designed star tracker. By moving the bearings supporting the rotating shaft, the weight is reduced by 20% from the original Polarie. The loading weight on the Polarie U is 5.5lbs. This is increased to 14lbs when the Polarie Multi mounting block and dovetail slide bare are attached to Polarie U. When using Polarie for time-lapse photography, the Polarie U can hold a loading weight of about 22lbs.
In addition to the tracing speeds of Sidereal rate, Half Sidereal rate, Solar tracking, and Lunar tracking, the Polarie U also has a custom mode for you to determine the tracking speed. The initial setting is 4x sidereal rate and you can adjust this using the Polarie smartphone app.
Star-scape photography mode (Half-speed of the sidereal rate) where the Polarie U tracks stars at half the speed of the diurnal motion of the stars. The terrestrial objects are moved less as compared with images taken by wide-field astrophotography at a given exposure time. Adding landscape or architectural objects in the foreground will make your photos more impressive. Wide-field astrophotography mode (sidereal rate) follows stars at the same speed as the diurnal motion of the stars. It is suitable for capturing constellations, the Milky Way, or faint celestial objects such as nebulae and star clusters.
The Solar tracking mode is useful for solar imaging and the Lunar tracking mode provides endless opportunities to image the Moon. The custom mode allows for setting the Polarie U in a wide variety of tracking speeds.
By using a communication function and app, various settings are customized via smartphones or tablet terminals. In star-scape photography, tracking speeds are selected (in the custom mode), and settings of interval time, exposure, and rotation speed are available in time-lapse photography. It allows for a wide variety of selections for the enjoyment of photography. To change the settings, a communication terminal that can be connected to Wi-Fi, like smartphones, and application software are required.
The Polarie U includes an autoguider port to move the mount in the R.A. direction. Using the "shoot-move shoot" function (SMS), you can stop the camera during a time lapse sequence to deliver better quality images. The camera connection port (shutter release terminal) controls the camera shutter while shooting in SMS or interval shooting.
The Polarie U provides the ability to stop the motion of a camera during exposure when shooting in time-lapse and then to start the motion of the camera again when the exposure finishes. This is useful as a time-lapse rotator so you can create better quality images in every single shot in the day or night.
The Polarie U is equipped with a camera connecting port (shutter release terminal) that controls the camera shutter in the shooting with the SMS or interval shooting. If the camera used is provided with the bulb shutter function and cable shutter release terminal, the settings can be made easily from a smartphone by linking the Polarie U and the camera's shutter release to each other. When you use this function, the communication terminals with Wi-Fi connection such as a smartphone and application software are required. In addition, a cable to connect the camera and the Polarie U is needed.
The Polarie U includes a mounting block that is equipped with a 1/4-inch camera screw which can accept commercially available ball heads. The optional Polarie Multi Mounting Block is available to increase the loading capacity. With the use of an optional dovetail slide bar the Polarie U can be transformed into an imaging platform for a telephoto lens or a short tube telescope. Various focal lengths from a wide-angle to close-up telephoto are available for taking astrophotography.
The Polarie U includes a bubble level that is useful for horizontal orientation. A scale in 5-degree increments allows you to check the angle of rotation during time-lapse photography.
A detachable sight tube finder is usable for rough polar alignment in the northern hemisphere. Simply locate Polaris at the center of the sight tube finder's field of view to image with a wide-photo lens. An available Polar alignment scope can be attached with the use of a polar scope arm bracket.
The Vixen Polarie U Star Tracker technical specifications include:
– R.A. Slow Motion Control: Wheel and worm gears full circle micro movement; 58.4mm in diameter, 144-tooth, made of aluminum alloy
– Worm Gear Shaft: 9.8mm in diameter, made of brass
– R.A. Axis: 40mm in diameter, made of aluminum alloy
– Number of Bearings: 2 pieces
– Drive: Pulse motor
– Maximum Loading Capacity: Standard offers 2.5kg / 5.5 lbs. (at 10cm apart from the rotation axis.); Upgraded offers 6.5kg / 14 lbs. (at 10cm apart from the rotation axis.); Time-lapse offers 10 kg / 22 lbs. (at 10cm apart from the rotation axis.)
– Tracking Rate: Celestial speed, 0.5X celestial, solar, lunar (Remote settings are available with a smartphone.); Applicable to the northern and southern hemispheres.
– Sight Tube Finder: It is used in the northern hemisphere to guide the unit to Polaris. 8.9 degrees field of view with no magnification. (It fits the accessory shoe.)
– Polar Scope: Polar alignment scope PF-L II is optional, Polar scope arm bracket sold separately is needed.
– Leveling: Bubble level is provided for time-lapse photography.
– Tripod Adapter Block: 3/8" camera screw sockets (2 places) with a conversion adapter for 1/4" screw, compatible with attachment plates of the standard thin type.
= Shutter Release Terminal: 2.5mm female jack for tripolar stereo mini plug; Pin assignment: In order of full shutter, half shutter and common, from center to outward
– Autoguider Port: 6-pole 6-wired modular jack (for an external autoguider)
– External Power Supply Port: USB Type-C
– Power Source: 4 pieces of AA batteries: Alkaline batteries, Ni-MH rechargeable or Ni-Cd rechargeable; USB Type-C external power supply batteries are available also.
– Working Voltage/Electricity Consumption: AA batteries: DC 2.4V to 3.0V, Maximum 0.6 ampares (at 2.5 kg/5.5 lbs. loading weight); External power supply: DC 4.4V to 5.25V, Maximum 0.3 ampares (at 2.5kg / 5.5 lbs. loading weight)
– Working Duration: About 3 hours at 20 degrees C (68 F) temperature, with use of Alkaline batteries; About 20 hours with an external power supply battery.
– Wi-Fi: Application software that works on smartphones is required.
– Operating Environment for Application Software: OS: Android 4.4 and over or iOS 9.9 and over; Wi-Fi: IEEE 802.11b/g; Data Encryption Method: WPA2-PSK
– Operating Temperature: 0 degree to 40 degrees C (104 F)
– Dimensions: 88.5mm x 72mm x 110.5mm
– Weight: 575g / 1.26 lbs. (without batteries)
– Optional Accessories: Polar alignment scope PF-L II, Polar scope arm bracket, Polar fine adjustment unit DX, Polar meter
You can learn more about the Vixen Polarie U Star Tracker here.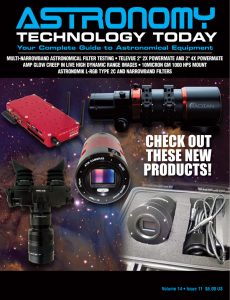 And to make it easier for you to get the most extensive news, articles and reviews that are only available in the magazine pages of Astronomy Technology Today, we are offering a 1 year magazine subscription for only $6! Or, for an even better deal, we are offering 2 years for only $9. Click here to get these deals which only will be available for a very limited time. You can also check out a free sample issue here.