The Pegasus Astro Uranus Meteo Sensor is a multi-functional device designed to support the efforts of both visual and imaging amateur astronomers.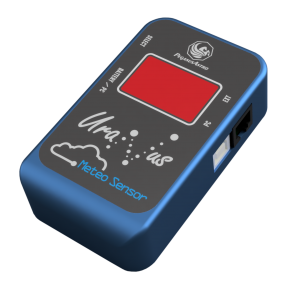 With overall dimensions of 93 x 55 x 24 mm and a weight of only 120 grams, it is smaller than the size of a cigarette box. Equipped with a variety of digital sensors, it can precisely report the ambient temperature, humidity, pressure, cloud height, cloud coverage and the night sky brightness.
The Pegasus Astro Uranus Meteo Sensor is housed in a high quality, blue aluminum anodized shell. If offers a fully digital operation and a high resolution red film display which makes the control of the device quick and simple. A single push button allows you to slide from screen to screen and read different sensor metrics.
Digital environmental sensors allow the device to "talk" every second (configurable time interval) with a network of embedded sensors and reports the following information on screen display:
– Ambient Temperature (°C or °F)
– Relative Humidity %
– Dew Point (°C or °F)
– Absolute Atmospheric Pressure – Sea Level Pressure (hPa)
– Relative Atmospheric Pressure (hPa)
– Altitude (m or ft.)
– Cloud Coverage (Cloud Index)
– Cloud Temperature
– Cloud Height
Measurement of the visual sky brightness (MPSAS, NELM, Bortle Scale) can be achieved if you keep the button pressed for more than a second. A highly sensitive digital sensor measures the brightness of the night sky in  a30° angle. You can determine the sky brightness within seconds. The device displays three different scales on screen (magnitudes per arc second, visual mags, Bortle scale). You can also compare the sky brightness at different sites or document progressive light pollution in your area.
The Pegasus Astro Uranus Meteo Sensor can be used as a handheld device or plugged via a USB2 cable to your PC or Laptop. The enclosure has 2x3mm holes at the bottom to securely lock the device on your telescope or in your observatory. And external port allows the device to be plugged directly to Pegasus Astro's Powerbox (Ultimate v2 or Advance) without an extra battery or USB cable. All sensor metrics are instantly exported to the Powerbox software.
The software provides the ability to monitor and keep a record of sensor data from day or night. Zoomable and exportable graphs keep a historic record of every observing session. Uranus Meteo Sensor fully supports ASCOM 6 Observing Conditions. Metrics can be easily displayed to imaging software such as SGPro on NINA. The device goes to sleep after 90 seconds of inactivity in handheld mode. This prevents any battery drain.
The Pegasus Astro Uranus Meteo Sensor will be available after the first of the year. You can learn more here.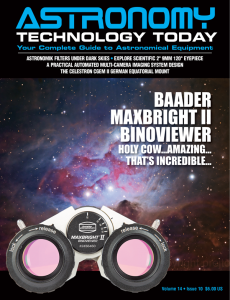 And to make it easier for you to get the most extensive news, articles and reviews that are only available in the magazine pages of Astronomy Technology Today, we are offering a 1 year magazine subscription for only $6! Or, for an even better deal, we are offering 2 years for only $9. Click here to get these deals which only will be available for a very limited time. You can also check out a free sample issue here.