The Vespera telescope is the latest offering from Vaonis, a French start-up. The company launched the Vespera (a mini version of its Stellina telescope launched in 2018) in October on Kickstarter. It is a hybrid between a smart telescope and a camera that is priced at a $999US (the Stellina is priced at $3,999US).
Weighing less than 10 lbs, Vespera is being marketed as "more affordable than an iPhone".  While the Stellina telescope is positioned in a high-end segment, Vespera should find a wider audience.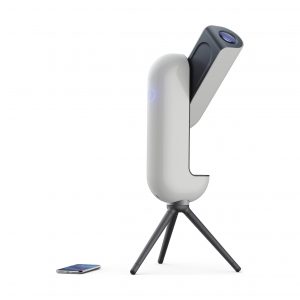 The Vespera utilizes a 1/2.9-sized IMX462 Sony CMOS sensor that is optimized for low light performance. The company has developed a proprietary digital card to correct warmth optimization and dissipation to maximize efficiency.
The Vespera offers users a simple interface by simply setting up the tripod using the adjustable legs and pressing a button. The Vespera uses a combination of its app and location services of a smart device to make recommendations for available astronomy targets. The app has a catalog of over 500 objects and will help you find, observe, and image those targets based on your location while also compensating for the rotation of the earth automatically. The user simple selects an object to observe and Vespera will point it out and follow it on the smart device.
Here is a comparison of the Vaonis to the Stellina:
– Weight: Vaonis 5 kg (11 lbs); Stellina 11.2 kg (24,7 lbs)
– Height: Vaonis 40 cm (15 in); Stellina 49 cm (19 in)
– Width: Vaonis 20 cm (8 in); Stellina 39 cm (15 in)
– Depth: Vaonis 9 cm (3.5 in); Stellina 13 cm (4.7 in)
– Lens: Vaonis Apochromatic Quadruplet; Stellina Apochromatic Doublet
– Lens special features: Vaonis Extra low dispersion S-FPL52 equivalent (ULD) with lanthanum glass; Stellina Very low dispersion S-FPL51 equivalent (ED) with lanthanum glass
– Aperture: Vaonis 50 mm; Stellina 80 mm
– Focal length: Vaonis 200 mm; Stellina 400 mm
– Focal ratio: Vaonis F/4; Stellina F/5
– Field of view: Vaonis 1.6° x 0.9°; Stellina 1° x 0.7°
– Mount: Vaonis Alt-Az; Stellina Alt-Az
– Field derotator: Vaonis No; Stellina Yes
– Image sensor: Vaonis Sony IMX462; Stellina Sony IMX178
– Resolution: Vaonis 1920 x 1080 (2MP); Stellina 3072 x 2080 (6,4MP)
– Sensor size: Vaonis 1/2.8"; Stellina 1/1.8"
– File formats: Vaonis JPEG, TIFF, FITS; Stellina JPEG, TIFF, FITS
– USB port (pictures download): Vaonis; Stellina No (done with Wi-Fi) Yes
– Auto focus: Vaonis Yes; Stellina Yes
– Light pollution filter: Vaonis Optional; Stellina Yes
– Dew control: Vaonis Optional; Stellina Yes
– Temperature/humidity sensor: Vaonis No; Stellina Yes
– Battery type: Vaonis Integrated; Stellina External (powerbank)
– Battery life: Vaonis 4 hours; Stellina 5 hours
– Water Resistance: Vaonis IP43; Stellina IP53
– Multi-user mode: Vaonis Up to 5 users; Stellina Up to 10 users
You can learn more here.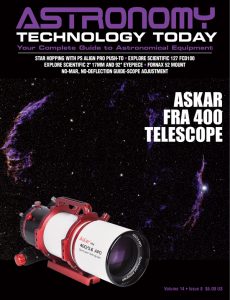 And to make it easier for you to get the most extensive news, articles and reviews that are only available in the magazine pages of Astronomy Technology Today, we are offering a 1 year magazine subscription for only $6! Or, for an even better deal, we are offering 2 years for only $9. Click here to get these deals which only will be available for a very limited time. You can also check out a free sample issue here.