The new  GM 2000 HPS II COMBI mount from 10Micron combines the stability of the company's GM2000 HPS II Monolith mount with the portability of the company's GM 2000 HPS II Ultraport mount. These two mounts are no longer being produced and will be replaced by the GM 2000 HPS II COMBI successor model.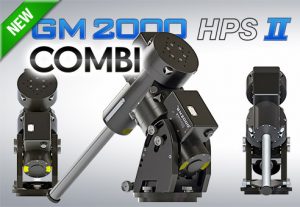 This mount is basically a GM2000 HPS II Ultraport ("splittable" in two parts) with an additional locking system next to the quick locking system, which is useful to carry and assemble the mount in the field. A further locking system was added for customers who have the mount permanently installed in an observatory. This will ensure long-term stability, comparable to a GM2000 HPS II Monolith.
You can easily revert the mount into a portable ("splittable") version simply by removing the locking screws. This way the new GM2000 HPS II COMBI combines both advantages of the previous models in one single mount.
HPS stands for H igh P recision and S peed. The GM 2000 HPS achieves a satellite tracking and positioning speed of 20 degrees / sec. with an average positioning accuracy of <20 "and a tracking accuracy of approx. 1" / 15min (peak to peak).
The GM 2000 HPS II COMBI also has high-precision absolute encoders on both axes, which opens up completely new possibilities. The mount never loses its orientation, even if the axes are adjusted manually. Even after a power failure, no new alignment is necessary. In mobile operation, the mount is quick and easy to set up and arrange.
The technical specifications, sizes and weight of the new GM2000 HPS II COMBI are exactly the same as of the retired GM2000 HPS II Ultraport which include: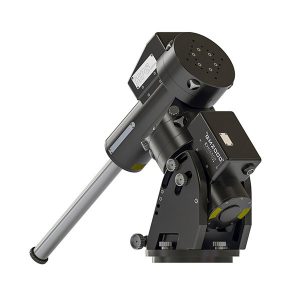 – Mount type: German Equatorial
– Weight: ~ 18.5 kg + ~ 15 kg (without accessories), total: ~ 33.5 kg
– Photographic carrying capacity: 50 k g
– Latitude range: 20 ° – 70 °
– Azimuth fine adjustment range: +/- 10 °
– Counterweight rod: 40 mm diameter, stainless steel, weight 4 kg
– Axes: 50mm diameter, alloy steel
– Storage: Preloaded conical roller bearings
– Worm gears: 215 teeth, 172 mm diameter, B14 bronze
– Slug: Diameter 24mm, tempered alloy steel, rubbed and lapped
– Engines: 2 axes AC servo brushless
– Power supply : 24 V DC
– Electricity demand: ~ 0.7 A with tracking ~ 3 A with max. Speed ​​~ 5 A peak
– GoTo speed: Adjustable from 2 ° / s to 20 ° / s
– Working temperature range: – 15 ° C to + 35 ° C
– Storage temperature range: – 40 ° C to + 50 ° C
– Power transmission: Backlash-free system with toothed belt and automatic backlash correction.
– Pointing accuracy: <20 "with internal 25-star software mapping – max. 100 stars; Model Maker software can also be used for automatic alignment.
– Medium tracking accuracy: ~ 1 "typically for 15 minutes ~ 0.6" RMS with internal 25-star software mapping and compensation of deflections and polarity errors.
– Safety stop: +/- 30 ° behind the meridian in Ra. (Software) +/− 45 ° behind meridian in Ra. (mechanically)
– Interfaces: RS-232 port; GPS port; ST-4 standard autoguider port; Ethernet 10/100/1000 port.
– Database: Stars via Common Names, Bayer, Flamsteed, Bright Star Catalog, SAO, HIP, HD, PPM, ADS, GCVS. Deep-sky: M, NGC, IC, PGC, UGC up to mv = 16. Solar system: Sun, moon, planets, asteroids, comets, artificial. Satellites. Equatorial and Altazimuthal coordinates. User-defined objects. Slewing positions can be called up quickly for frequent focusing or other uses.
– Firmware functions: User-definable parking positions, 2 star and 3 star alignment function, up to 100 alignment stars for modeling, correction of pole and angle errors, estimation of the mean pointing error, storage of several pointing models, stars, sun and moon, tracking speed adjustable in both axes, declination-dependent adjustment of the Autoguiding speed, adjustable horizon height limitation, pointing and tracking beyond the meridian, semi-automatic balancing, manual, automatic or GPS-based time and coordinate setting, dome control via RS-232, configurable atmospheric refraction, network settings, comet and asteroid filters, multilingual interface. Remote support via internet connection.
– Keypad control: Robust hand controller with metal housing and professional microswitches. Large graphic display – heated for operation at the lowest temperatures. Dimmable display and key backlighting, five info lines for coordinates, object information and symbols for the status of the mount and active external connections and devices. All functions of the mount can be controlled via the keypad, without a PC.
– PC control: Remote control via RS-232, Ethernet, proprietary 10Micron ASCOM driver, LX200-compatible protocol. Firmware updates and orbit data of comets, asteroids and artificial satellites via RS-232 or Ethernet. Virtual PC keypad via RS-232 or Ethernet. Built-in Wi-Fi for connection to smartphones, tablets and any wireless network.
The GM2000 HPS II COMBI is expected to be available as soon.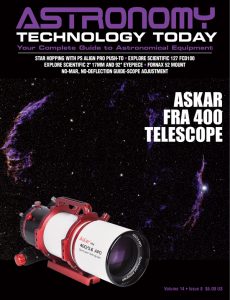 And to make it easier for you to get the most extensive news, articles and reviews that are only available in the magazine pages of Astronomy Technology Today, we are offering a 1 year magazine subscription for only $6! Or, for an even better deal, we are offering 2 years for only $9. Click here to get these deals which only will be available for a very limited time. You can also check out a free sample issue here.