Rainbow Astro is developing a new mount in its "weightless mount" line of Strain Wave Gear ((harmonic drive) mounts. The Rainbow Astro RST-300 increases the load capacity without counterweights of the Rainbow Astro RST-135 mount from 13.5kg to 30 kg. If you use counterweights, the RST-300 can be loaded up to 50kg.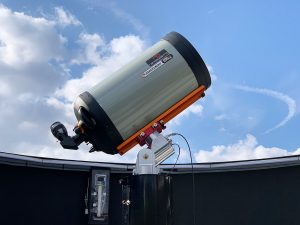 The RST-300 features a brake system built into the RA axis. This is to prevent the back drive from rotating in the direction of gravity when the power is turned off. The second prototype has been completed and is under testing and a production prototype will soon be completed with a final model made available for sale soon.
The Rainbow Astro RST mounts utilize robotics technology that has been widely used in precision industrial robotics applications. The strain wave gear is a type of gear that is widely used in industrial robots. Strain wave gearing offers an ingenious way to produce a high-efficiency, high ratio gearbox within a small space. It involves an outer fixed ring of gear teeth and an inner flexible ring of teeth which are made to mesh with the outer by means of an oval rotor distorting the ring. This strain wave gear technology provides nearly zero backlash and a high degree of pointing and tracking accuracy.
Smart features are built in including Wi-Fi, a homing sensor and GPS which allow for remote control and guiding of the mounts. Built from solid block CNC construction the mounts are solid with smooth operation for reliable performance.
You can learn more here.