Stuck at home looking for something to do? Want to learn about the latest in astronomy equipment, techniques and more such as visual filters? Well Sky-Watcher's new "What's Up?" Webcast is a new option to learn more about what's happening in the world of telescope technology.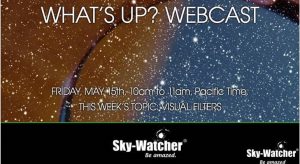 What's Up? is a live webcast held every Friday from 10am to 11am Pacific on the Sky-Watcher USA YouTube channel. Each week they take a dive into a new astronomical topic: gear, visual & imaging techniques, interviews and more.
This week in What's Up? they are taking a look at visual filters. Filters can be a great way to expand your visual experience with your telescope. The webcast will take a look at using color visual filters for planetary, the best filters for the moon as well as filters for viewing nebulae. During the live episode you can ask questions with the Sky-Watcher team.
All What's Up? webcasts are free by tuning to Sky-Watcher USA's YouTube channel. Can't watch it live? That's OK, all webcasts can be watched whenever you like by visiting the YouTube channel. This includes last week's webcast which focused on eyepieces.