William Optics FLAT73R 0.8x Adjustable Reducer-Flattener is for use with the William Optics Zenithstar 73 OTA. The William Optics Reducer-Flattener is a great accessory that improves image quality by being able to adjust spacing without the need for extension tubes. It will deliver an image circle of >44 with a 36×24 mm sensor.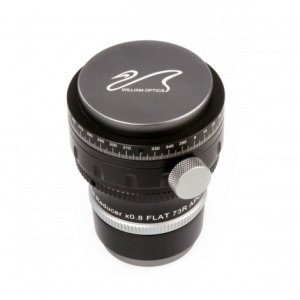 Using the FLAT73R reducer/flattener greatly increases the available field of view. It is full frame ready and was designed for use with full frame chip-size DSLR cameras. It also is suitable for several types of CCD and CMOS astronomy cameras and their accessories. Users can also attach a filter wheel to the cameras and the adjustable 0.8x reducer will still function like normal.
The flattener's backfocus is 56.8 mm and the adjustment distance for DSLR and mirrorless cameras is 1.8 mm. On the camera rotator side, there is a M63 thread. The rest of the body is equipped with M48 threads on the telescope side and the filter side.
To install M48 threaded filters onto the flattener/reducer, users need to remove the rotator by twisting it off, then the filter (not installed) can be installed, and the rotator can be placed back on. To install the flattener, users adjust loosen the three screws near the eyepiece adapter, remove the eyepiece adapter, and connect the accessory to the M63 telescope thread.
And if you are a fan of William Optics telescopes you need to check out the William Optics RedCat 51mm Petzval APO Refractor.
You can learn more at William Optics website.