The amateur astronomy community has a new resource for "simple and practical" items. Joel Short, an astroimaging enthusiast located in Northern Indiana, has decided to open a small shop to make available items he has developed to offer affordable and uncomplicated accessories. As Short commented, "These are simple and practical items that I have found to be essential for the home astrophotographer."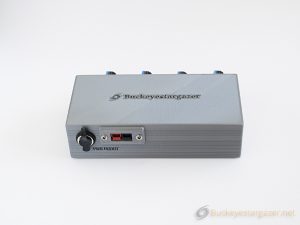 Among the offerings are 2 or 4 channel dew controllers in a variety of configurations in several colors.  The controllers feature both PowerPole and 5.5/2.1mm power inputs that are fused at 10A and includes a 12v auto power supply.
Features include:
– PowerPole input jack
– 5.5mm/2.1mm center positive input jack (Power jacks are input/output, so when power is supplied to one input, the other acts as a 12v output)
– Each port can supply up to 5A
– Controller and power supply are fused at 10A
– Gold plated RCA jacks
– PWM (pulse width modulation) control circuit
– Overcurrent protection
– Stainless steel hardware
– PLA 3D Filament
For astroimagers who don't have an automatic rotator, Short offers simple camera bubble levels which will help orient your camera to 0 degrees. As he notes, "What I do is level my telescope parallel to the ground facing north, then level the camera by rotating the focuser."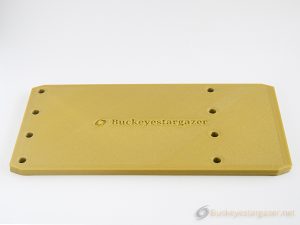 The housing uses the existing screws on your camera and the screw holes are tapered to ensure the housing is properly squared with the camera. Bubble levels are available for QHY163/183/174/178/290/224 cameras as well as ZWO ASI2600MC and ASI6200MM/MC cameras. Custom levels for other cameras are available upon request.
Simple scope accessory plates are also available. These accessory plates are strong enough to hold all accessories such as dew controllers, USB hubs, mini-computers, and focuser controllers. They are available in custom sizes and are lighter than traditional aluminum plates. The maximum size that can be ordered is 240mm x 200mm. Purchasers can simply state the desired size and hole pattern in the shopping cart at the time of purchase.
Keeping the theme of simple Short's Desiccant Caps will keep your scope dry while stored. Available in 2″ or 1.25″ versions in a color of your choice, the caps come with 5x 5g rechargeable desiccant packs that can easily be recharged in the microwave or oven.
You can learn more at here.