The newest camera line in the Atik portfolio is the ACIS – Advanced CMOS Imaging Systems – which follows on the success of ATIK's CMOS Horizon cameras.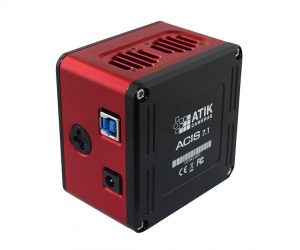 The first camera offered in the ACIS CMOS line is ACIS 7.1 which is Atik's fastest camera ever with a capability of a rapid 30 frames per second in full 7 mega pixel frames. Much like the Atik Horizon II, this makes it a well-rounded camera that is not only suitable for deep sky imaging, due to its cooling feature for long exposures, but can also perform planetary imaging to a high standard as a result of its speed.
The sensor for the camera is the high sensitivity Sony IMX428, which rivals some CCD sensors for sensitivity, while the 4.5um pixel size makes this a versatile camera suitable for use with a range of telescopes.  The ACIS 7.1 houses the 7.1MP sensor in a dried, air-tight environment which is sealed to industrial standards to enable condensation free imaging. The camera has low read noise and can image at the rapid speeds at both 12 and 16-bit formats.
The ACIS 7.1 also possesses a new case design that allows the camera to achieve a cooling delta of -35°C below ambient, this keeps thermal noise under control, irrespective of where you are imaging from.
The Atik ACIS 7.1 offers three different power modes:
– PowerSave Mode: Allows for the highest quality images to be taken.
– Normal Mode: The camera operates at its default setting to allow for normal imaging.
– Fast Mode: Takes advantage of the on-board DDR memory to return a constant stream of images. Fast mode increases the frame rate of ACIS 7.1 to 30FPS. This can increase to 175FPS through the use of sub framing, and reaching 300 FPS when used with the when used with Atik's Dusk imaging software.
The Atik ACIS 7.1 is natively compatible with Atik's Infinity live stacking software to give incredible views of the night sky in a near real-time environment. The ACIS 7.1 is also fully compatible with Atik's Artemis Capture and Dusk imaging software that gives you full control over your imaging. The company also supplies a full ASCOM driver so you're free to use it with your preferred astro imaging software.
The ACIS 7.1's built-in 256mb DDR3 image buffer helps remove amp glow and other artifacts caused by data transfer over USB2, all while preventing issues with dropped frames. This makes for a seamless and fast imaging experience, whether you're taking advantage of the flexibility and low cable weight of USB2, or the fast speeds of USB3.
Technical specifications include:
–  Sensor: Sony IMX428 CMOS
–  Resolution: 3208 x 2200
–  Pixel size: 4.5 µm x 4.5 µm
–  ADC: 12bit
–  Readout noise (Typ.):3e- at low gain
–  Cooling delta: -35°C
–  Regulated cooler: Yes
–  Water assist: No
–  Max. exposure: Unlimited
–  Min. exposure length: 0.001s
–  Frame rate: Full frame = 30 fps Sub frame = 175 fps
–  Gain factor: Variable
–  Full well capacity: ~20,000e-
–  Dark current: 0.03e/p/s
–  PC interface: USB3.0 full speed
–  Power requirements: 12VDC, 2A
–  Backfocus distance: 12.5mm ±0.5
–  Thread on front: M42 x 0,75
– Weight: approx 530g
– Mono or color: Either
– Shutter Type: Global shutter
To learn more about these and other Atik camera's here.