In 1984 Ken Fulton published the "The Light-Hearted Astronomer", a humorous and down-to-earth tome offering common sense on practicing amateur astronomy. He has updated his original work in his publication of "The Light-Hearted Astronomer Observes Again"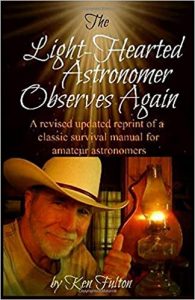 which he crafted to appeal to beginners and experienced practitioners of the hobby.
As Fulton noted in his thoughts behind the new edition, "Anyone is free to pursue observational amateur astronomy in some fashion, providing they cultivate a willingness and sensitivity to see as they've never seen before. Today, the opportunities are boundless and surprisingly affordable – but it all begins with the opening of a naked eye. Aesthetic enjoyment for its own sake should not be discounted as a very good reason to pursue observational amateur astronomy; nor should lack of education, funds, or scientific inclination be determining factors. Amateur astronomy should be first and foremost a visual delight, not a search for answers.. More than anything else, the hobby is for the enjoyment of observers, not scientists. It is, if anything, a journey beyond the map . . . into spiritual territory."
Fulton was born in Texas in 1947 and in 1960, he managed to obtain his first telescope: an excellent 4-inch Criterion DynaScope reflector. In 1965, he won a NASA Award for Scientific Achievement for photographs of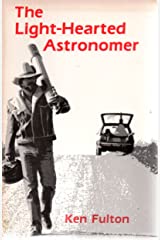 the Moon taken through that very telescope. Later, in the late 1970s, he wrote numerous articles for Astronomy Magazine which he incorporated in his original bestselling book.
Doris, his wife of over 50 years naturally caught the astronomy bug and has published several books featuring images she has taken of the moon, including a children's book.