Telescopi Italiani has announced the availability of its TI35 Astrograph in a f/3.5 figuration. The TI 35 (350 mm of clear aperture) is based on the same Modified Harmer Wynne optical configuration as Telescopi Italiani's TI35 f/5 system. The TI 35 offers a very compact, light-weight, high-end performance astrograph in super-fast f/3.5 (1230 mm of focal length).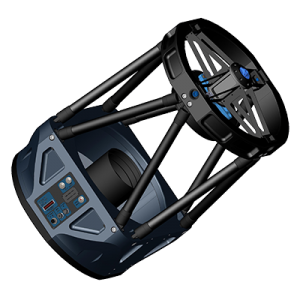 The TI 35 with its 740 mm long, 430 mm over-all diameter and less than 20 kg weight, offers one of the highest performing transportable astrographs in the market. It uses a further refractive element correction (in ED glass) in order to reach a real diffraction limited corrected field of over 60 mm in diameter without introducing color aberrations (from 400 nm to 1,2 micron of wavelength). The performance of these very fast and very corrected optics allows the optics to be used with success both in narrow band filter imaging and in near infrared imaging.
A Fused Silica (Quartz) primary mirror is available as option and offers a thermal expansion coefficient of 5.4 x 10-7/℃ , 6 time less than borosilicate glasses.
TI 35 f/3.5 features include:
– Effective optical aperture: 350 mm
– Focal length: 1230 mm – f/3.5
– Extreme lightness, stiffness and thermal stability (extensive use of carbon fiber)
– Easy collimation
– Compact dimensions
– Built in secondary mirror electronic Focuser (ASCOM Alpaca compatible)
– Built in electronic control boards
– WI-FI telescope control software
– Optional automated dust cover (ASCOM Alpaca compatible)
– Optional TI110 Field Rotator (ASCOM Alpaca compatible)
Technical specifications include:
– Overall Dimensions: 750x430x430 mm
– Weight: 19 kg
– Focal Length: 1230 mm
– Optical Configuration: Modified Harmer-Wynne
– Parabolic Primary mirror: Diameter 360 mm; Effective Optical Aperture 350mm; f/3,51; Borosilicate glass; Aluminum Enhanced Coating >94%
– Secondary Mirror: Diameter 190 mm; Borosilicate glass; Aluminum Enhanced Coating 94%
– Corrector: Type – 3-Lenses ED; Diameter 116 mm; Multi layer 400-900 nm
– Real Diffraction Limited field diameter (considering Polychromatic 400/700 nm): 62mm
– Effective Obstruction (of the secondary baffle: 56.0%
– Light incoming (% of aperture area): 68.4%
– Back Focus from rear flange: 115 mm
– Loss of light (vignetting) @ 26 mm from axis: 4.5%
– Loss of light (vignetting) @ 30 mm from axis: 10%
– Spot Diagram RMS Diameter @ 26 mm from axis – Poly 400-700 nm (micron): 3.00
– Spot Diagram RMS Diameter @ 30 mm from axis – Poly 400-700 nm (micron): 4.36
Telescopi Italiani is an Italian company founded by two professionals, Leonardo Priami and Claudio Dandolo, with decades of experience in the field of amateur astronomy focusing on the mechanics and design of astronomical instruments. Both have extensive knowledge in advanced technologies involving mechanical engineering, materials, optics, micro controls and are joined by the same deep love for astronomy. The company's goal is to become a reference point for high-end instruments to the global community. The company recently has introduced its new line of astrographs incorporating the latest technological innovations to offer extreme performance.