At this year's Winter Star Party, TeleVue founder Al Nagler gave attendees a preview of a special accessory attachment for late models of the company's popular 55mm Plössl eyepiece.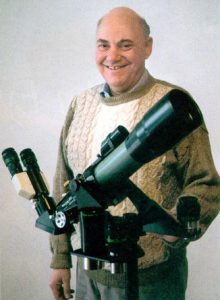 The new accessory will be introduced later this year and converts the telescope eyepiece to a 67mm focal length with a 40° apparent field of view. It creates a 19mm exit pupil in an f/3 scope using TeleVue's Paracorr coma corrector.
According to a recent TeleVue blog post, "Who would need such large exit pupil sizes? Our TNVC/PVS-14 as well as any other Night Vision Device used afocally! The new accessory lens matches the full true field output from this eyepiece to the 40° field of any NVD objective. Equally important as seeing all the field available from the 2″ eyepiece format, the larger exit pupil of the 67mm focal length provides more light to be amplified. As the night vision monocular does not see the secondary shadow in Newtonians, it allows the use of longer focal length eyepieces than could be used in unaided observing."
Featured here is a video from Camera Concepts & Telescope Solutions shot at the Winter Star Party which features Al providing an overview of the new product.