The team at Backyard Observatories has announced they are building a new remote telescope hosting facility in Northern Ohio. The "NORTH" (Northern Ohio Remote Telescope Hosting) observatory complex will be ready to host telescopes later this year in Chatham Township, Medina County Ohio located on the edge of Amish country.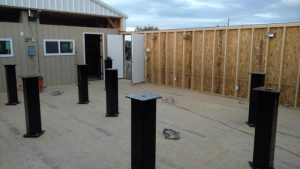 Phase 1 will offer a dozen piers and introductory prices as low as $85 per month. While Northern Ohio may seem to be an atypical location for a remote telescope hosting complex, it has a number of benefits for those living in the Midwest an opportunity to access dark skies at a location that is convenient to access on a regular basis.
As Backyard Observatories' Scott Hortsman, developer of the complex commented, "Ohio you say? That's crazy! Sure it's not Arizona or New Mexico Skies but if you live within a few hours' drive you have 24/7 access to your telescope equipment and a price far below what prime sky observatories charge."
The facility will offer electricity and internet access to each telescope and will include video monitoring. The observatory is designed with low walls and a high ceiling so the roof can open and close even if a scope is at zenith.
To learn more email shorstman@neo.rr.com with questions or to sign up on to reserve a spot.