The 'swiss army knife' of star diagonals, the Baader FlipMirror II Star Diagonal (BFM II) offers 3 adjustable configurable output ports and a high-quality flip mirror. Its multitude of adaptations give the imager and visual astronomer practically limitless ways to couple and operate multiple instruments, cameras, guiders, off axis guider, eyepieces and binoviewers.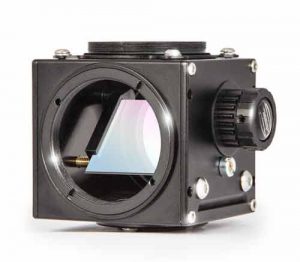 Telescope auxiliary instruments cover a wide range of interests, from a sole eyepiece, via camera use, to high end spectroscopy. Unfortunately every telescope just features one exit port. This causes relentless manual exchange of parts in the dark, causing huge time loss, wear on the parts – and "nerves". And whenever you start controlling your telescope remotely – the single port becomes a painful reality.
Improving workflow, especially during astrophotography, is the goal for the Baader-FlipMirror II Star Diagonal. This is not just a simple flip mirror but much more, as there are three ports to be put into action. It makes your single telescope port variable – to suit your various interests. The FlipMirror II Star Diagonal allows a variety of permanent adaptations to your telescope. Use the rotary knob to switch between the rear port and the top port.
The BFM II lets you switch between a straight light path (Position A) for a camera or other measuring instruments and an angled light path (Position B), e.g. for an eyepiece. Image 2 shows how it works. In addition, a calibration lamp for spectrographs or an Off-Axis-Guider pickoff-prism (that is not affected by the mirror position) can be connected at the AUX-port on the bottom.
The Baader-FlipMirror II Star Diagonal offers:
– Straight-through (S52, M48 and T-2 on both sides) for full-frame camera, spectrograph, or other instruments.
– Adjustable T-2 thread on top for eyepiece clamps, video modules (up to 32 mm image circle) or even a binoviewer.
– Bottom flange for the optional Badder Flip Mirror Off Axis Guider or for an optional calibration lamp for quick calibration of spectra without removing the spectrograph.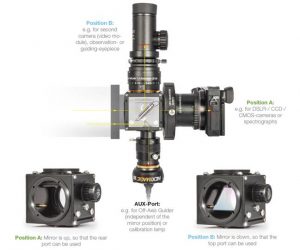 The BFM II  offers a precise surface-mirrored flip mirror with multi-layer Al coating, for high-resolution images with cameras with small pixels. The back of the flip mirror is also Al coated and masked to direct the light of an optional calibration lamp onto the slit of a spectrograph. It enables precise adjustment of all light paths and the shortest possible overall length for any application – compatible with a large number of adapters from the Baader Astro T-2 system, the M48 system and the Badder UFC system (Universal Filter Changer).
The rotatable M48 connection rings are made of hardened, stainless steel on front and rear – backlash-free adapted to the BFM housing. They can be fixed in the optimum position to rotate any accessory around the optical axis.
The BFM II accepts an optional toothed belt for future motorization using the Baader Steeldrive II Motor Focuser with Controller, enabling full remote operation of image acquisition, guiding, and spectroscopy.
Included with the Baader FlipMirror II Star Diagonal:
– Laterally adjustable T-2a top ring
– 2x M48i/S52 Dovetail ring made of hardened stainless steel
– Reducing ring M48a/T-2i
– Reducing ring M48a/T-2a
– Inverter ring M48a/M48a
– Pin type face wrench for M48/T-2 and M4 counter nuts
– 3 mm screwdriver for M 4 brass adjustment screws
– 4x hex keys (2.5/2.0/1.5 /1.3 mm). The 2.0 mm wrench has a ball head to reach screws even when accessories are mounted by holding the wrench at an angle.
– Bottom flange (laterally adjustable 1mm) for off-axis guide or calibration lamp for spectroscopy
– Dust cap for bottom flange
– 2 x M48 dust caps
You can learn more about the Baader FlipMirror II Star Diagonal here.
And to make it easier for you to get the most extensive news, articles and reviews that are only available in the magazine pages of Astronomy Technology Today, we are offering a 1 year magazine subscription for only $6! Or, for an even better deal, we are offering 2 years for only $9. Click here to get these deals which only will be available for a very limited time. You can also check out a free sample issue here.