The Venus Optics Laowa 4mm f/2.8 Circular Fisheye Lens is available now for $199 USD for Micro Four Thirds mirrorless cameras including Fuji X, Sony E and Canon M systems.
The lens is an 8mm equivalent fisheye prime specially designed for mirrorless cameras with APS-C and MFT sensors providing the ability to create an extremely distorted circular fisheye perspective.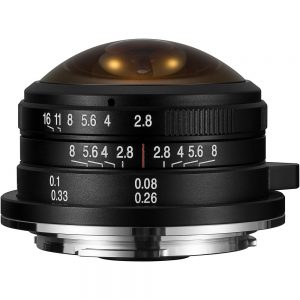 While the lens offers a number of interesting and unusual terrestrial imaging opportunities, it also provides a fun way of imaging the evening sky. As a circular fisheye, the lens provides an obvious distorted and bulb-like visual image, rendering a unique, untraditional imaging perspective. And the f/2.8 maximum aperture is well suited for dark skies.
Offering an incredibly wide field of view within a very compact size, the Laowa 4mm f/2.8 Fisheye lens provides a big 210° angle of view for Micro Four Thirds mirrorless cameras. The greater-than-180° angle of view also enables making full 360° stitched panoramas with just two shots.
As mentioned earlier, the lens offers a bright f/2.8 maximum aperture which is well-suited to working in low and difficult lighting conditions and its manual focus design permits working with subjects as close as 3.1″ away for extreme close-up shooting. Additionally, the fisheye design retains almost full depth of field when stopped down to f/5.6 for consistent and even sharpness. The image sharpness of 4mm offers a sharp image at the center which continues smoothly to the edge.
Its lightweight and small design adds to the lens' versatility as it makes the lens suitable for use on drones as well as being ideal for VR imaging, action sports