Ostahowski Optics has 24″ fused Quartz primary mirror substrates now in stock ready to custom build for your dream telescope. They are offering these 24″ optics with a 2.00″ edge thickness, enhanced aluminum coatings and test data. This will be a very limited production offering.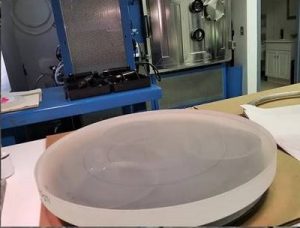 Prices will vary depending on the focal ratio chosen. The company is offering the optics with the following focal ratios: f/3.1, f/3.3, f/3.6 and f/4.0. Custom focal ratios may be available upon request.
Once an order has been placed they can begin fabrication immediately with minimal lead times and with very reasonable delivery times. You can learn more or place an order here.