If you are out and about and want to have access to quick close-up views of the moon or distant terrestrial objects, but literally only have pocket space available, Orion's 8×25 ED Waterproof Monocular is a great choice.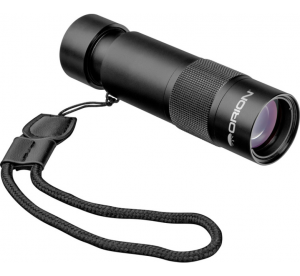 While its Orion's smallest monocular at less than 5 inches and under half a pound, it packs a lot into its small frame offering Orion's best quality optics, utilizing ED (extra-low dispersion) lenses for extremely sharp, high contrast views with no false color. Orion also uses dielectric coatings to the prisms to ensure the brightest possible image reaches your eyes.
All optical surfaces of the monocular are fully multi-coated to ensure maximum light throughput so you can enjoy bright, vivid views, even in low-light conditions during dusk and pre-dawn hours. The monocular's wide 6.8° field of view provides an expansive view, and with 8x power magnification, it's easy to hold and track moving target objects during use. It offers a near focus of just 6.5 feet which is more than adequate for viewing even extremely close-by views with 8x power magnification.
Eyeglass wearers will appreciate the comfortable 16.4mm long eye relief, as it allows you to leave corrective lenses on during use. For those who don't wear glasses, or who prefer to remove them when using optical instruments, the 8×25 ED Monocular features a twist-up eyeguard to help properly position your eye to take in the entire field of view comfortably.
A removable lanyard strap is included for convenient attachment of the monocular around your wrist. Also included are caps for both ends and a soft carry case, so it will always remain protected from dust and dirt. It is US retail priced at $99.99. More information can be found on the Orion website.