Rigel Systems has announced the nFRAME camera rotator/framer is now available in two versions.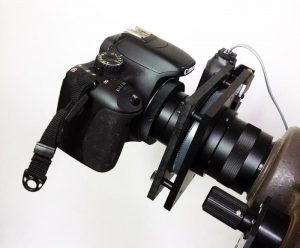 The nFRAME Single is for those who already have an electronic focuser (such as the Rigel System usb-nSTEP or third party focuser) and want to add framing. The nFRAME single offers precise camera rotation and is US retail priced at $399.95.
The nFRAME Dual offers focusing and framing in one package and will run a unipolar focus stepper as well as framing. The unit is US retail priced at $499.95.  If you don't have a stepper for focusing, for another $99.95US you can add Rigel Systems' nSTEP stepper motor and bracket kit.
The nFRAME now uses a powerful right-angle DC servo motor (with 100 steps/deg) belt coupled to rotate the nFRAME's internal hub and your camera stack. The nFRAME comes with a SCT thread nosepiece for direct attachment to an SCT plus a 2″ nosepiece that threads into the SCT nosepiece for a perfect fit into most focusers.
Rigel Systems can also provide a m54 nosepiece for direct attachment to many focusers or other solutions as you need.  On the top side there is a m54 female thread for attaching field flatteners with an m54 male thread. The nFRAME includes a m48 male adapter for compatibility with field flatteners with an m48 thread on the front end for 2″ extension tubes, filter systems, cameras, camera adapters, etc.
You can learn more at the Rigel Systems website.