The team at Revolution Imager keep coming up with all kinds of nifty tools to make life easier. Their latest creation is their Right Handy Controller Heater Holder for the Celestron Evolution series of telescopes.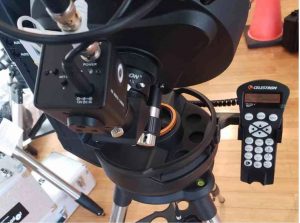 As they say in the product description, if you love your Evolution series of Celestron telescopes but are constantly searching for where you should put down your controller you need to get on the right side and no longer worry about the hand controller cord wrapping around your tripod legs.
The controller holder simply clips to the scope making it convenient to access and offers an ergonomic angle design for maximum use and one-handed ease. And as an added bonus, the hand controller will hold a hand warmer behind the controller to help the LCD readout perform its best and keep the controller comfortably warm on those extremely cold nights.
The Handy Holder is US retail priced at $19.99, comes with one "Hot Hands" hand warmer. Revolution Imager offers a link on its site to purchase more hand warmers.
You can learn more at the Revolution Imager website.