The ASIAIR Wi-Fi Camera Controller is a smart Wi-Fi device that allows you to control all ASI USB 3.0 cameras, ASI Miniseries cameras and an equatorial mount. With this device, you can plate solve, autoguide, sequence, and capture deep space images with your phone or tablet. The controller operates as a smart dual-band Wi-Fi device so that you can choose the best bandwidth (5G or 2.4G) for your location.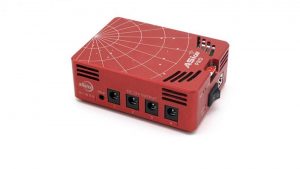 The ASIAIR Pro is an evolution of the original ASIAIR controller offering a number of new features and will available at the end of 2019. Both units are Raspberry Pi based systems with the original version operating the Pi3 CPU and the new Pro version operating Pi4.
The new Pro version offers improvements on the controller and expands its ability to sequence, plate solve, auto guide, and capture images while providing an easy to use and seamlessly integrated live preview and focus mode. The ASIAIR also offers white balance and debayer color images and all through the control of a Wi-Fi enabled phone or tablet. Users can achieve perfect focus by zooming in on a smaller section of the camera image and using the provided half flux graph and switch easily between automatic and manual stetching so you can get the best, fine detail out of your deep sky or planetary imaging.
The camera controller also allows users to independently autoguide and capture images. The ASIAIR app is compatible with Apple iOS 9.0 on the iPhone series 6, 7, 8 and X or the iPad and iPad Pro as well as with Android devices running OS 5.0 or higher on any Android device or tablet. The app also talks to the SkySafari app allowing the ability to plate solve within ASIAIR and sync mount position.
The ASIAIR includes 4 USB 2.0 ports to connect devices include an EQ mount. The new Pro version offers 64GB of built in space and a 64GB flash drive giving a total storage of 128GB. The PI4 has 4GB of RAM and the new Pi4 CPU is 30% faster than Pi3. The upgraded unit is housed in a CNC milled aircraft grade aluminum housing. The housing mount design allows it to be installed on the finder foot and the finder/guidescope can mount on the ASIAIR Pro. The new version offers a DSLR shutter control line to control the snap socket on many cameras and will support all the latest cameras and devices such as EAF.