The new Canon EOS Ra camera is Canon's first full-frame mirrorless camera dedicated to deep sky and night sky photography. Building on the success of the EOS R, the EOS Ra offers 30x magnification in both the viewfinder and in Live View shooting for more accurate focus and roughly 4x more transmission sensitivity of hydrogen-alpha (Hα) rays (656.3 nm) for more vivid, deep-red hues of nebulae, making it ideal for astrophotography.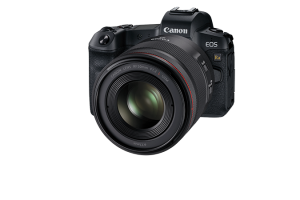 As noted by Canon Technical Adviser Rudy Winston in a recent overview of the camera, "The Canon EOS Ra will be a limited-production camera, expanding the EOS R-series in the direction of the serious astrophotography enthusiast. Its full-frame, 30.3 million pixel sensor and expanded sensitivity to Hydrogen α wavelengths should dovetail nicely into the needs of these users, and its RF mount means that the superb Canon RF lens series can now be used for this demanding type of imagery. Along with that, its mirrorless structure brings added benefits, such as the option for totally silent, and near vibration-free shooting, a great electronic viewfinder (and ability to magnify in the EVF or LCD screen up to 30x), and the excellent Canon Dual Pixel CMOS AF system for those times where autofocus is desired. For Canon users who have ventured into the fascinating field of dark sky or terrestrial night sky photography, this is certainly a camera worth investigating."
The EOS Ra is Canon's first astro-dedicated mirrorless camera that features a Canon-developed and produced 35mm full-frame CMOS sensor. It employs the DIGIC 8 Image Processor to enhance the speed of operations across the board. This means fast, efficient performance and phenomenal image quality for big prints, impressive 4K video and more.
Sharing many of the same advanced features of the EOS R, including a 30.3 megapixel CMOS sensor, a high-precision electronic viewfinder (EVF) and Dual Pixel CMOS AF with 5,655 manually selectable AF positions, the Canon EOS Ra is capable of capturing and pinpointing dim stars. A Vari-angle LCD touchscreen allows for comfortable composition at any angle and easier framing when shooting vertically, especially when the camera is mounted to a telescope.
Featuring 4K video recording at up to 30 fps, along with 4K time-lapse capabilities, the movement of stars across the night sky can be recorded in brilliant clarity and detail.
Positioned in front of the CMOS imaging sensor, the EOS Ra's infrared-cutting filter is modified to permit approximately 4x as much transmission of hydrogen alpha rays at the 656nm wavelength, vs. standard EOS R cameras. This allows for a higher transmission of deep red infrared rays emitted by nebulae, without requiring any other specialized optics or accessories.
The EOS Ra camera has a standard ISO sensitivity range of 100-40000 for stills and 100-25600 for video (100-12800 for 4K video shooting). Combined with the EOS Ra camera's remarkable low-light AF performance, still and video shooting is possible even in dark situations in a variety of places and occasions.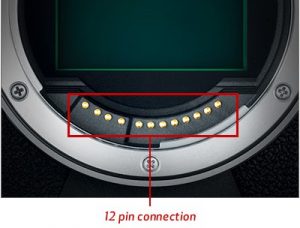 The EOS Ra camera has an in-camera Digital Lens Optimizer that works with RF lenses (and EF/EF-S lenses with a Mount Adapter) to provide a substantial improvement in image quality. The Digital Lens Optimizer limits deterioration in image quality caused by low-pass filters or wide-aperture lens designs. It is particularly effective at correcting peripheral aberration, providing a high amount of detail for beautifully natural results. It's usable both during shooting and when developing RAW data, and does not affect continuous shooting speeds. Data from compatible EF and EF-S lenses is built into the camera, and data information from RF lenses is transferred near instantly through the EOS R's 12 pin communication system
The EOS Ra camera's highly responsive Dual Pixel CMOS AF system features an incredible 5,655 manually selectable AF positions and can deliver sharp focus within approximately 0.05 seconds. This means fast action can be captured and focus can be maintained with speed, accuracy and ease.
The Canon EOS Ra camera features a high-precision 0.5-inch OLED (Organic Light-Emitting Diode) EVF with approx. 3.69 million dots and a 23mm eyepoint. Displaying a bright image and extensive shooting information that rotates with the camera, the viewfinder excels in bright conditions where viewing the camera's LCD may prove difficult.
The EOS Ra's electronic viewfinder has been created to provide a bright, sharp and colorful 100% view of the subject at hand. Equipped with an aspherical lens, the EVF shows a crisp and vivid image with minimal aberration or distortion, even when the eye moves off the center of the visual field.
The EOS Ra's EVF has a bright, 23mm-high eyepoint design that creates a generous 30mm space between your nose and the rear of the viewfinder. This makes it easy to compose and view images in the viewfinder with or without glasses. A dioptric adjustment of -4 – +2 means it's simple to change as needed to suit various users.
The EVF's 0.5-inch OLED based display features approximately 3.69 million dots for an incredibly sharp and detailed image that makes it easy to check focus and view the extensive image data that's displayed.
The Canon EOS Ra offers advanced recording features such as 4K at 29.97 fps, Full HD at 59.94 fps and HD at 119.9 fps. Helpful functions include distortion correction during recording and Movie Digital IS. Additionally, video can be recorded during still photo shooting by simply pressing the Movie Shooting button. Beautiful time-lapse videos can also be created in 4K simply and easily with the dedicated Time-lapse Movie mode – ideal for capturing movement of the stars across the night sky.
The EOS Ra camera gives you the choice of standard, full-frame viewing in 5x or 30x magnification – this is the first Canon EOS camera with 30x capability. This feature provides you with a tool for extremely precise focusing upon small stars and other astrophotography subjects. The EOS Ra camera is also able to display the 30x magnification through the electronic viewfinder, along with its LCD screen for Live View operation.
The EOS Ra camera is designed to integrate smoothly into existing EOS systems. Engineered to work seamlessly with RF lenses, it maintains complete compatibility with EF and EF-S lenses by using one of three optional Mount Adapters. When using EF-S lenses, the EOS Ra even crops automatically to reflect the APS-C sized sensor the lenses are designed for.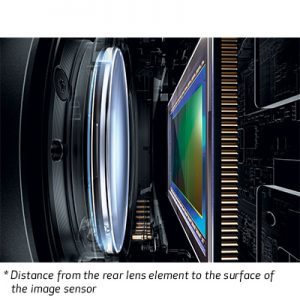 The RF mount on the EOS Ra camera has a large, 54mm internal diameter that enables impressive handling and provides increased flexibility for lens design. And thanks to the camera's mirrorless design, the lens's rear element can be much closer to the image plane. This reduced back focus distance, combined with the RF mount's 54mm diameter, helps facilitate lenses of stellar optical quality and stunning performance while enabling innovative compact camera and lens designs.
All RF lenses feature a 20mm flange focal distance, which is the distance from the lens mount to the surface of the image sensor. This flange focal distance balances the benefits of short back focus with the engineering requirements necessary for mount stability. Accordingly, the RF mount's flange focal distance ensures excellent optical performance while maintaining the mount rigidity and camera durability necessary for real-world operation.
With a robust 12 pin connection between the camera and the lens, the EOS Ra camera and RF lenses are able to communicate at a higher speed, transmitting a larger amount of data and information for incredibly fast AF, plus enhanced image stabilization and optimization.
Mount adapters, such as the Mount Adapter EF-EOS R, deliver seamless connections between the EOS Ra camera and EF and EF-S lenses with all functions intact. Offering L series level weather and dust sealing, the Mount Adapter EF-EOS R is even compatible with EF extenders like the Extender EF 1.4x III to extend your camera's optical reach. With an entire arsenal of EF and EF-S lenses at your disposal, the Mount Adapter EF-EOS R and other mount adapters ensure endless creative possibilities for the EOS Ra camera.
Beyond enabling use of EF and EF-S lenses on the EOS Ra camera, the Control Ring Mount Adapter EF-EOS R and the Drop-in Filter Mount Adapter EF-EOS R add functions that open up a number of new possibilities for creative image capture. The Control Ring Mount Adapter EF-EOS R adds a control ring like those found on RF lenses, providing the same level of control to your EF and EF-S lenses and supporting the same setting configuration regardless of lens.
The Drop-in Filter Mount Adapter EF-EOS R enables compatibility with EF and EF-S lenses and includes drop-in filter capability for use with circular polarizing filters or variable ND filters. This enhancement enables compatibility with numerous lenses regardless of their front diameter, and makes filter use possible with lenses like the ultra-wide EF 11–24mm f/4L USM lens or the tilt-shift TS-E 17mm f/4L lens which cannot accept a filter on the front.
Comfortable and solid in the hand, the EOS Ra camera features a rigid yet lightweight magnesium alloy chassis that enhances body durability while shielding the camera from electromagnetic radiation and heat. It also has a tempered front panel for internal rigidity.
The EOS Ra camera has a robust, electronically controlled focal-plane shutter that's rated to approx. 200,000 cycles for consistent and reliable use. It shoots as fast as 1/8000 sec. at up to 8 fps, and up to 5 fps with Servo AV.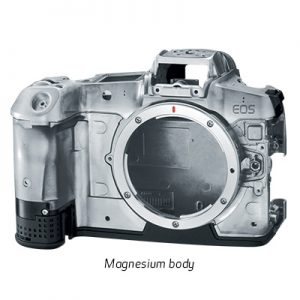 The EOS Ra camera is designed for use in a variety of weather conditions. Sealing materials are used in critical areas like the buttons, terminal covers, the battery compartment and the card slot cover. Precise design and construction help to minimize accidental penetration of dust and moisture in the rest of the camera body. Combined with an RF lens, or any other weather-sealed EF/EF-S lens, the EOS Ra proves to be a reliable partner in virtually any climate.
The EOS Ra camera has a mechanism to close the shutter when the camera is powered down. A mechanical shutter sound is audible when the camera is turned on or off. To protect the shutter curtain, focus is moved to infinity for RF and EF lenses and the minimum aperture is set for RF lenses when the camera is turned off.
For power and the convenience of compatibility among multiple cameras, the EOS Ra camera uses Battery Packs LP-E6N, the same batteries used on the EOS 5D Mark IV and others. Especially helpful for photographers with multiple EOS cameras, the Battery Pack LP-E6N is a robust, long-lasting battery that helps deliver power, shot after shot, recording after recording.
The EOS Ra camera's dedicated Battery Grip BG-E22 holds 2 Battery Packs LP-E6N, while enabling virtually seamless vertical operation and additional functions with all buttons similarly configured in a comfortable and dedicated grip. Designed to maintain an optimal balance between the weight of the camera body and lens, the Battery Grip BG-E22 also adds a flash sync terminal for use in the studio. It also has a useful battery charging function (with optional USB power delivery adapter attached) that's particularly helpful for power-hungry operations like video recording or shooting over an extended period of time with the EVF.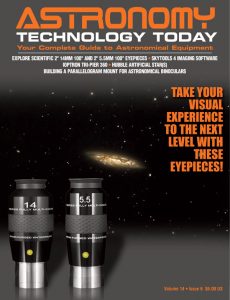 And to make it easier for you to get the most extensive telescope and amateur astronomy related news, articles and reviews that are only available in the magazine pages of Astronomy Technology Today, we are offering a 1 year subscription for only $6! Or, for an even better deal, we are offering 2 years for only $9. Click here to get these deals which only will be available for a very limited time. You can also check out a free sample issue here.