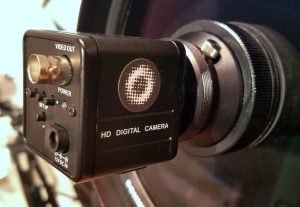 The Revolution Imager camera system allows you to view through your telescope on screen and in real time providing the ability to view details that would be impossible to see with an eyepiece alone.
With new "FunStar" adapter for Celestron Fastar compatible telescopes, you'll be able to use the Revolution Imager to unlock the speed of your Celestron SCT telescope. The FunStar is an adapter that allows you to place the Revolution Imager in the secondary mirror position of your SCT telescope allowing you to use the telescope at an amazing focal ratio of f/2, giving you the widest possible views and the lowest exposure times. All for only $79.99US for the 5″, 6″ and 8″ versions.
The FunStar provides a standard 1.25″ opening and SCT threads for a huge variety of adapter combinations.  Also, the 8″, 9.25″ and 11″ adapters are threaded on the inside for 2″ filters.
Installation is quick and easy – simply unscrew the secondary mirror from your Celestron SCT telescope, install the FunStar in its place, insert your Revolution Imager and you're ready to experience wide nebulas, large galaxy groups, huge open clusters and even the full disk of the moon.
The adapter is currently in stock for 8″ SCTs and models for 5″, 6″, 9.25″ and 11″ will available within 4-8 weeks.  The 9.25″ FunStar will be $99.99 and the 11″ will be $119.99
The FunStar does not provide any correction, so some aberrations will be present. However, the small chip-size in the Revolution Imager makes these aberrations minimal.