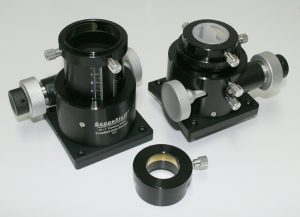 Scopestuff's new GSO Crayford focusers can, in the words of Scopestuff's Jim Henson, "transform your scope into a dream machine!" Cheaply built focusers can be the weakest link in your telescope drive train. Sticky grease, rough racks, shims and springs for crude adjustment, and bad feel can make for an unhappy observing or imaging experience. Scopestuff has introduced high quality 2″ Crayford Focusers for Newtonians, Dobsonians and SCTs (Image 1) and Refractors (Image 2).
These focusers offer smooth operation, great feel and precise adjustability. The draw tube and unified compression ring visual back are machined from solid aluminum, are clear anodized, and ride on precision bearings and a roller shaft – with no grease or plastic glides. The 1/8″ thick-wall drawtube is internally baffled and anti-reflection blackened.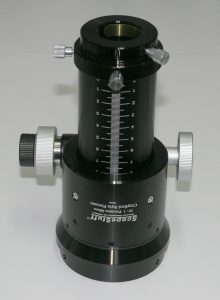 The bodies are black anodized machined aluminum and have tension and lock controls that adjust the focuser anywhere from a very light feel to fully locked. Whether it's a light eyepiece or a heavy camera, control is smooth and precise, with no image shift, backlash, stickiness or bumpy feel. The two speed versions have a 10:1 ratio reduction knob for super fine focus control. The focusers can be motorized utilizing Rigel Systems nFOCUS Motors and Controller, which can be purchased in combination with the Scopestuff Crayford focuser.