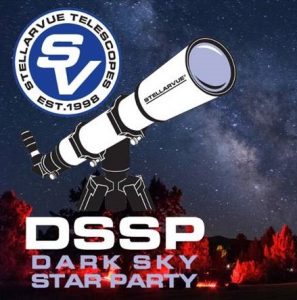 Stellarvue's Dark Sky Star Party (DSSP) is held annually in Likely, California during the new moon week. The next event will be held on July 16 – 19, 2020.
In its 11th year, the star party is limited to 50 Stellarvue owners and provides the opportunity for attendees to camp under magnitude 8 skies and image, view and attend various activities and programs.
DSSP highlights Include:
– Three catered dinners on Thursday, Friday and Saturday
– Electrical hookups on the telescope field
– Presentations by imagers and other experts
– Movie Night under the tent
– Blue Lake Kayak Adventure
DSSP Pricing is:
– Full Hookup Site: $449.  Extra persons $249 each.
– Tent Sites: $299.  Extra Persons $249 each.
– Bonus Night 1: Wednesday $50 for full hookup site, $25 for tent site.
– Bonus Night 2: Sunday $50 for full hookup site, $25 for tent site.
If you are a Stellarvue owner and you want to attend visit Stellarvue's website to learn more. The event tends to fill quickly so if you are interested you should reach out soon.
The event's location offers three things to be truly dark: no air pollution, no light pollution, and an altitude high enough to be mostly free of naturally occurring aerosols (mainly dust, humidity, and volcanic ash). Likely, California sits atop the Modoc Plateau which provides the perfect trilogy of these three variables.