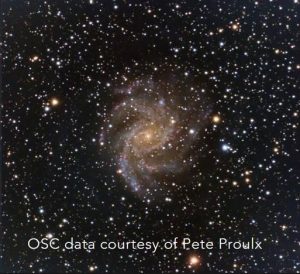 Easy PixInsight is a new resource launched by the creators of IP4AP.com which is a subscription-based resource for astro-imagers focusing on the popular PixInsight astroimaging program. IP4AP also offers tutorials on Photoshop, MaxIm DL, Astroart, and more.
Easy PixInsight offers a more entry level approach to using PixInsight for astro-imaging. For those who are  brand-new to PixInsight or have been struggling with the program, Easy PixInsight offers free, simple tutorials demonstrating how easy it can be to produce a great looking astro-image. As the tutorials show, while PixInsight itself can be a very complex and powerful program, it doesn't mean that you need to master it to get started.
The website offers free 4-video series on subjects such as One-Shot Color Processing, DSLR Processing and Monochromatic (L-R-G-B) Processing. Users are shown in the video series the steps to process a specific astro image, such as NGC 6946 – The Fireworks Galaxy (shown here, this is the image obtained in the One-Shot Color Processing series)
The website offers a strikingly similar situation to the popular painting franchises which provide an example image to paint and the tools to paint it with. Its a great way to gradually learn PixInsight.