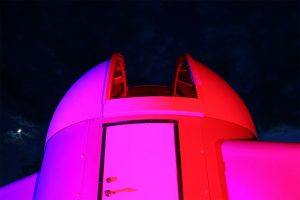 The US Glacier National Park celebrated the opening of its new astronomical observatory on Thursday, August 22, at the park's St. Mary Visitor Center.
The Glacier National Park Conservancy funded the new observatory, which houses a PlaneWave 20-inch CDK Telescope offering a 20-inch (0.51 m) f/6.8 Corrected Dall-Kirkham Astrograph telescope. It's among the largest telescopes in the National Park Service devoted to free public education and interpretation programs. The telescope also is the biggest in the State of Montana providing free public programs.
The CDK20 has a dual carbon-fiber truss design, with 3 cooling fans ejecting air from the back of the telescope. The CDK20 covers a 52 mm field of view without any field curvature, off-axis coma, or astigmatism. The telescope sits on a robotic mount, and an operator uses a computer mouse to aim the scope. The telescope is housed in a SkyShed Pod Max observatory.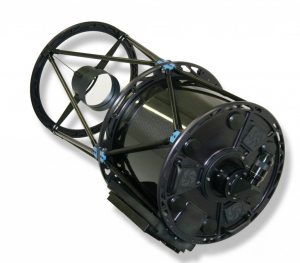 Next to the observatory are two 55-inch monitors mounted to allow viewing from outside the 12-foot Pod Max dome that shelters the telescope and supporting equipment. Visitors will see bright, high-resolution images on the monitors. The Pod Max observatory also can send observations to distant classrooms and can provide data or observing time to scientists.
To share astronomy and the night sky with visitors, Glacier National Park has collaborated with several partners – the Glacier National Park Conservancy, Waterton Lakes National Park, the International Dark Sky Association, the NPS Night Sky Program, and the Big Sky Astronomy Club.
Waterton-Glacier International Peace Park is the world's first transboundary International Dark Sky Park, which makes it a wonderful place to view the night sky – with or without a telescope. The designation includes a commitment by the park and concessioners in both Glacier National Park and Waterton Lakes National Park to retrofit lighting fixtures and reduce light pollution within the parks' boundaries. Glacier's retrofitting is underway, also funded by donations to the Glacier National Park Conservancy.
While Glacier National Park's dark sky program began with a focus on telescopic observations, the park now promotes a bigger picture view of the night sky, the emotional connections it provides, and the need to protect the dark sky experience as a cultural activity enjoyed by humans over the centuries.
Throughout the year, Glacier hosts regular astronomy programs that draw up to 20,000 visitors annually. Guided solar and night sky viewing occurs at St. Mary and Apgar during the summer and into September, while monthly summer star parties at Logan Pass can bring in as many as 600 visitors.
Waterton Lakes National Park, the other half of Waterton-Glacier International Dark Sky Park, also offers a regular interpretive program called Bring Back the Night in the Falls Interpretive Theatre in Waterton, Canada.