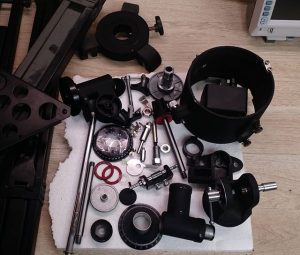 Axis Squared is a new company established to offer services for the astronomical community including rebuilding, repairing, and upgrading telescope mounts, OTAs and more.
The company was founded by Mike Bradshaw who, in addition to a passion for amateur astronomy, is a professional astronomer with degrees in astronomy and research. He brings to the company a passion for instrumentation which was honed from 10 years with Steward Observatory working on various research grade telescopes and facilities. His broad background includes extensive experience working on telescopes, mounts, cameras, accessories, domes, and more.
Axis Squared uses a proprietary blueprinting service that takes an existing visual or imaging setup and enhances it far beyond what the factory planned. The result is a mount that tracks better with tighter gear tolerances and less autoguiding inputs needed.
Included in the service is cleaning and collimation of OTA's accompanied by a detailed ledger of the upgrades, with actual star test results, motor backlash measurements, rebuild images, etc. Work includes a suite of diagnostics (mount flexure, PhD analysis, metrological analysis) before and after.