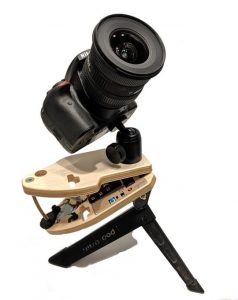 The Nyx Tracker is a motorized barn door star-tracking astrophotography mount designed for those who want affordable and accurate widefield tracking.
With a signature alignment laser, the Nyx Tracker is intuitive and quick to set up. Once pointed at the earth's celestial pole, the motorized mount will precisely follow the stars so that long exposures can be made without star trails. This is how brilliant night sky images are usually made. Additional motor speed settings allow for lunar tracking and starscape imaging (intentionally creating star trails).
The Nyx Tracker requires no previous knowledge of astrophotography. Only a camera, a tripod, and a learning attitude.