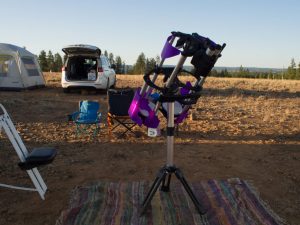 Analog Sky is a new startup that is developing a rich field binocular telescope. It debuted a beta prototype of its Drifter 200mm binoculars at Oregon Star Party 2019. The telescope offers 30x views with the light gathering ability of a 12"-16" telescope. The company will be conducting a Kickstarter campaign later this year to fund the initial production of the company.
Specifications include:
– Dual 8″ f/5 primary mirrors (GSO)
– Enhanced aluminum secondary (2.6″) and tertiary (1.8″) mirrors (Antares)
– 2″ dual-speed focusers
– Under 50 pounds for OTA and pier
– Machined aluminum or stainless-steel components
– Engineering-grade 3d-printed components
– Custom adjustable-height lightweight pier
– Four Kendrick Astro dew heaters (optional)
– Two Noctua primary fans
– Z-bolt laser spotter
– Tracer LiFePO4 battery pack
The company offered an extensive blog post on the debut of the telescope on its blog.