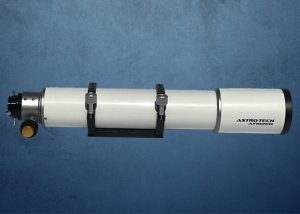 Astronomics is celebrating 40 year offering telescopes and related equipment. To celebrate, they are giving away three Astro-Tech 102ED refractors valued at $599 each.
According to Mike Bieler of Astronomics, "It has been a fantastic journey for my family over the past 40 years.  I remember loading up in the family Volkswagen back in 1979 and taking a trip out to California to establish our dealership agreements with Meade and Celestron.  It was a leap of faith as we were only the 2nd mail-order telescope retailer in the country at the time, but we are still here.  Not only are we still here, but we are the oldest mail-order telescope specialty retailer that has stayed under the ownership of one family.  We are fortunate to have served hundreds of thousands of astronomers over the years."
The giveaway runs from today until October 31, 2019. You can learn more about the contest here.