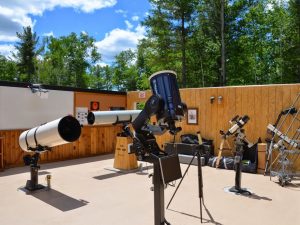 On Sunday, July 21, the Adirondack Sky Center & Observatory located in Tupper Lake, New York will host a new event with some of the darkest and clearest skies east of the Mississippi River. The event will offer a day long calendar of activities surrounded by solar and celestial nighttime observing through a number of telescopes.
Included in the event will be a variety of activities as well as presentations from notable speakers. These include Al Nagler, a former optical designer at NASA known for designing lunar landing simulators and famed Tele Vue astronomical observing products; Andy Andersen of the International Dark Sky Association discussing light pollution impacts on wildlife; and Gib Brown, former meteorologist at WPTZ and college professor, showing the Science on a Sphere.
Activities will be offered in multiple locations so be sure and check the schedule here.
The schedule includes:
1:00 PM – 5:00 PM: Solar scopes, crafts, scientific demonstrations, scavenger hunt, prizes, and more.
1:00 PM – 5:00 PM: StarLab Planetarium (High School Gym, 25 Chaney Road): Take an intergalactic trip.
1:30 PM – 2:30 PM: Light Pollution and Impacts on Wildlife – The International Dark Sky Association, at The Wild Center
3:30 PM – 4:30 PM: Al Nagler, Helping Apollo 11 Astronauts Get to the Moon: Work on Simulators.
7:30 PM – 9:00 PM: Celestial Stories and Traditions: the Haudenosaunee / Mohawk People, and Greek and Roman Sky Mythology.
7:30 PM – 9:30 PM: Music of the Skies – "Night School"
9:00 PM – 11:00 PM: Evening Stargazing at the Observatory