Telescope eyepiece cases and more. What makes a person create some of the most unique astronomy products in the industry? Ron Burrows of Wood Wonders explains below his passion for creating his unique telescope eyepiece cases.
I have always heard "Look to Your Passion in Life" and working with wood is a passion I have carried my entire life. I have been making sawdust since I was 5 or 6, just tall enough to use a jig saw. My father had a wood shop in our basement and he passed on the knowledge of a craftsman. He also passed on the core belief that everything I make must be of utmost quality and I always strive to make works of art to be passed on to the next generation.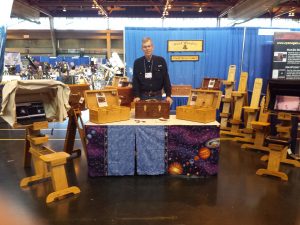 Growing up in the 60's during the space race, I was drawn to look up at the moon and wonder. At the time I had a small collapsible spy glass and would wait for a clear night to go outside and try to get a view of the Moon. On some nights, for brief moments, I could even see craters and mountains, if I could hold the little scope steady enough.
Then one day I was in K-Mart and saw my heart's desire, a 70-mm refractor on a wood tripod. I spent all summer cutting grass and collecting bottles, saving the $27. I spent the next few years sharing views of the Moon and planets with all my friends. Then life happened and I didn't look through a telescope for years.
Fast forward 35 years and one day my 25-year-old son brought an 80-mm refractor over. Looking at the Moon that evening sparked my passion for looking up again and sent me on a life changing journey.
I knew that little 80-mm would never do and soon found myself with a bad case of aperture fever. I purchased my first Dob in 2005, a 12" f/4.9, and quickly realized that bending over to look through the eyepiece just doesn't work.
I started researching the different observing chairs on the internet and kept landing on the Catsperch as a highly recommended design, but it was no longer available. Being a wood worker, I made a chair just going by the pictures on the Catsperch web site. Using this chair made such a huge difference in my observing experience. The design was so solid and well thought out.
I started thinking about making them available to the astronomy community again. I contacted Jim Fly, the originator of the Catsperch Observing Chair, to see if I could help him get the chairs back on the market. He sent me a set of plans and I built proto-types of the "Original Catsperch" and "Catsperch Frazier Pro" version and then created my company, "Wood Wonders."
Jim and I formed a business relationship and, after working through the long list of backorders, the chairs were again on the market. Over time I expanded the Catsperch offerings with the "Summit" and "Miniperch" versions.
Just like many of us, after a while the gear you take out on a night of observing grows. Eyepieces, filters, charts, collimation tools, documentation – the list goes on. I found myself storing and carrying my "stuff" in boxes, bags, and cases and it seemed like I would always forget something.
While making chairs I started thinking about building a case that would hold it all! Thinking about how to keep charts and documentation dry, how to store and arrange all the gear so it would be easy to find. I knew I wanted a design that offered compartments for organization, a place for everything and everything in its place. Then there was the flashlight in the teeth that needed to be addressed, it had to have automatic lighting.
The last piece of the puzzle in my mind was how to support the drawer in a pull-out fashion. This came to me while making a batch of chairs and I just put everything aside. I grabbed a piece of plywood and built prototype and had one case I could grab and go with confidence. I had all my essential stuff for night on observing!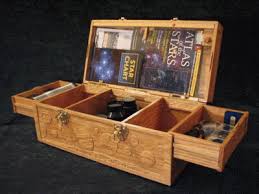 After using the case a number of times, I decided to make little nicer one from solid oak. But when I took the case to the first star party someone talked me into selling it to them and I brought my stuff home in a cardboard box. I really didn't think about making this a product at that point, just a case for all my "stuff" and made another one. The same thing happened at the next star party, so I decided to start making a couple extra telescope eyepiece cases for the next star party and added "Wood Wonders Eyepiece Cases."
To date I have made some 500 Catsperch Chairs and 300 Telescope Eyepiece Cases. It just amazes me to be in my little workshop in the back yard, making a chair or case, and see that my work is going half way around the world.
Being a craftsman with a love of the night sky, it's been wonderful to combine two of my biggest passions. To share my craft with the astronomy community and travel around the country to star parties, has been a wonderful journey. I'm sure glad my son brought that little 80-mm scope over so many years ago. It's been a great time making all that sawdust and looking up at the stars.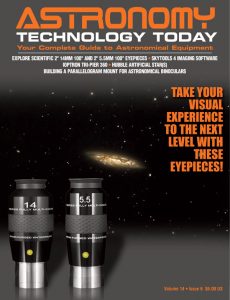 And to make it easier for you to get the most extensive telescope and amateur astronomy related news, articles and reviews that are only available in the magazine pages of Astronomy Technology Today, we are offering a 1 year subscription for only $6! Or, for an even better deal, we are offering 2 years for only $9. Click here to get these deals which only will be available for a very limited time. You can also check out a free sample issue here.