"I tell people that when choosing a beginner telescope, with a small investment in a simple first telescope, they can test drive the hobby without breaking the bank, and upgrade later when they have more experience and knowledge about the hobby!"
Having been an astronomy professor for several decades, an amateur astronomer for several more, an experienced astrophotographer, and a reviewer of myriad telescopes, mounts, astronomical software and other equipment, I am commonly asked to give recommendations on choosing a beginner telescope, the best telescope for advanced visual users, and the best telescope for astronomical imaging. In this column, I'll tackle how I answer the calls to recommend a beginner telescope.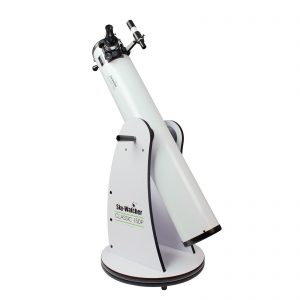 When I was 13 years old, I began delivering newspapers in Saint Joseph, Missouri. That meant seven morning and five afternoon editions each week. I earned about $100 per month, which was a lot of money for a kid back in 1973. My first month's pay went for bicycle to help speed up my paper rounds. My second purchase with my newfound wealth was a department store 60mm refractor. Most of the rest of my earnings over the next two years went toward my first car that I purchased just before my 16th birthday!
Back to that telescope: it was a 60mm, f/11 refractor on a flimsy alt-azimuth mount/tripod with slow motion hand control knobs for both axes and a 5×24 straight through finderscope. The telescope also came with a 20mm and 4mm eyepieces (0.965-inch barrels) and a 2x Barlow. The eyepieces were extremely poor quality, but then so were the telescope's optics.
A lot of people back then bought similar telescopes. Today, various popular stores sell really inexpensive telescopes to astronomer wannabes. Unfortunately now, like back then, too many of these telescopes are disappointing to use and they end up just collecting dust in garages or basements.
Because of my strong interest in becoming an astronomer, I stuck with my beginner scope much longer than the average consumer. To use the telescope, I quickly learned how important it was to have the finderscope parallel to the main scope. So I would align them on a distant streetlight before hunting my first celestial object. Even parallel, finding objects in the telescope was difficult due to the poor quality of the finderscope, the wobbly mount, and the narrow field of view of the telescope. Also due to the small aperture of the finderscope, I could not find many deep space objects.
With this scope, I obtained my first views of the Moon, the Pleiades, and discovered numerous star clusters and double stars. One bright star I pointed it at was resolved into a disk with belts and zones with four moons orbiting it. I had found Jupiter. Later I found the ringed planet Saturn and then Mars with its white polar caps. To this day, I have continuously followed those planets through their eastward treks along the ecliptic.
Besides M31 and M42, both naked-eye objects, I never saw another galaxy or nebula through my first telescope. But I learned enough to keep me going until eight years later when I purchased a six-inch Newtonian with a German equatorial mount.
For beginners, I always advise people to stay away from those inexpensive telescopes sold by large chain department and electronics stores. Many of these advertise obtaining unreasonable magnifications. Like my first telescope, the optics are poor, the eyepieces are poor, and the mounts are not very stable.
If money is not a concern, there are several products on the market with Goto mounts, internal GPS and the capability to autoalign. A beginner can set one up, turn it on, and in a few minutes start slewing to objects from the hand controller's database. There is a still a learning curve for these telescopes. Some beginners may find it too steep.
For those who don't want a major investment for a beginner telescope, I never recommend a small, long focal length refractor. A quality 3-4 inch f/6 refractor on a quality alt-azimuth mount is much easier to use. I never recommend an equatorial mount for beginners as many beginners struggle to understand the importance of polar aligning a mount.
The beginner scopes I most often recommend for are a 4.5 to 6-inch Dobsonian reflectors with red dot finders. Any telescope with a focal ratio (f/) around f/6 to f/8 will have virtually no noticeable coma. Coma occurs when the stars in the center are pinpoint, but stars near the edge are teardrop shaped. These Dobsonian telescopes have long enough focal lengths to "wow" beginners when looking at the Moon, Jupiter and Saturn. Views of Mars and Venus are pretty good too, when the planets are at there best alignment with the Earth and Sun.
Dobsonians are a style of Newtonian telescopes that use a well-balanced rockerbox to move the scope up and down, and an azimuth bearing to rotate the base 360 degrees. Thus it is easy to manually slew the telescope towards any object in the sky.  The simplicity makes these telescope the least expensive on the market per inch of aperture. There are hundreds, if not thousands, of star clusters, nebulae and galaxies that can be seen with 4.5 to 6-inch Dobsonian reflectors. They are able to go much deeper than 3-4 inch refractors.
Usually a simple, manually slewed telescope allows beginners to concentrate on learning the constellations and star hopping. All that is needed is a basic star atlas or one of myriad smart phone apps that are great to use for finding telescope targets. I tell people that with a small investment in a simple first telescope, they can test drive the hobby without breaking the bank, and upgrade later when they have more experience and knowledge about the hobby!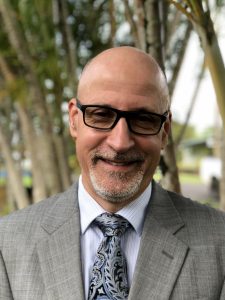 Dr. James Dire has an M.S. degree in physics from the University of Central Florida and M.A. and Ph.D. degrees from The Johns Hopkins University, both in planetary science. He has been a professor of physics astronomy at several colleges and universities. He is the president of Methodist College in Peoria, Illinois. He has played a key role in several observatory projects including the Powell Observatory in Louisburg, KS, which houses a 30-inch (0.75-m) Newtonian; the Naval Academy observatory with an 8-inch (0.20-m) Alvin Clark refractor; and he built the Coast Guard Academy Astronomical Observatory in Stonington, CT, which houses a 20-inch (0.51-m) Ritchey Chrétien Cassegrain.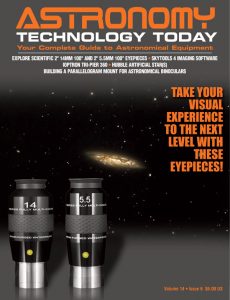 And to make it easier for you to get the most extensive telescope and amateur astronomy related news, articles and reviews that are only available in the magazine pages of Astronomy Technology Today, we are offering a 1 year subscription for only $6! Or, for an even better deal, we are offering 2 years for only $9. Click here to get these deals which only will be available for a very limited time. You can also check out a free sample issue here.